ICE MAGIC FESTIVAL 2011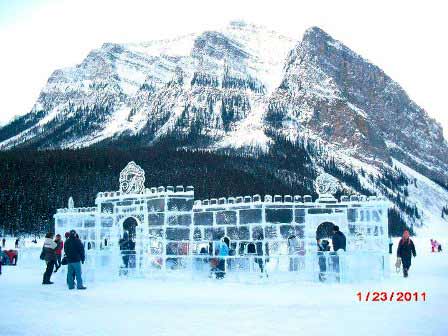 Lake Louise, Alberta   Canada
By: Estrella "Tata" Delos Reyes
On Sunday, January 23, 2011, I had the opportunity to witness the Magical Ice Festival held at the Fairmont Chateau Lake Louise in Banff National Park.  This hotel, that sits at the edge of the beautiful frozen lake that is back dropped by the grandeur and greatness of Victoria Mountain and it's glacier, was again the host and had welcomed thousands of people from Alberta and it's neighboring province of British Columbia. There were also residents and from other provinces of Canada as well as visitors all over the world, who come during winter months to enjoy Canada's majestic mountains for their winter sports such as skiing and snowboarding.
Enthusiasts all over were amazed once again by the skills of the ice sculptors and teams of professional ice carvers who came from around the world to participate. They carved blocks of ice into formations that are based on the chosen theme… "Magical Madness".  The concept was that of fairies, dragons and other mythical creatures.
The teams have 34 hours over a period of 3 days in which to transform 15 blocks of ice that weighs about 300 pounds, into their masterpiece, which must reach 7 feet in height.  It surely takes a lot of physical strength to position the blocks, and then start carving them into their chosen piece of magical creation.  The efforts they have shown is immeasurable and highly commendable. In addition, there was also another competition called "One Carver, One Hour, One Block".   This was an event where a speed chainsaw was used by one member from each team,  to carve a masterpiece within an hour.
Although the fascination ate me up the whole day, my human body could not stand the cold chill and at the end, my set of legs gave up. I had to get in the hotel and rest for a while.  The sculptures can be viewed for a few more weeks for as long as the temperature remains cold to stop it from melting.  The unbeatable ice castle was at the center point as it stood on top of the lake while many are enjoying their moments of ice, skating and playing around it.
On our way back to Calgary, the memories of the visit lingered on.  The amazing talents, the joys it brought to many, the smiles and laughter of young and old alike, these and more, are truly what makes winter a season to keep looking forward to.