MANILA'S FINEST THE GRAND RE-OPENING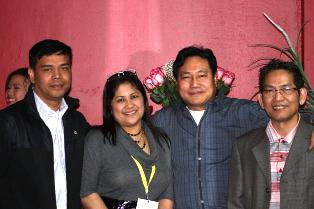 February 12, 2011
by: Estrella "Tata" Delos Reyes
The successful re-opening of Manila's Finest Grill on 17th Avenue SE marked a new beginning for this restaurant. The place was re-invented with a new touch.  I personally had the opportunity to partake in this celebration as one of its invited guest.  Together with my Lens man Nikko Gueco, we embarked to witness the new look, new touch, and new feel of the place.  There was so much food and "fiesta feel" crawled through my bones as I see the changed venue was truly a delight. I like the color, the creativity, and the new set-up.  It creates the ambience to develop special relationship amongst friends and families, and most of all it does not overlook quality and service.  A sustainable business that would reflect the best in Filipino cuisine and hospitality (MF Mission).
Manila's Finest Grill and Restaurant caters to the many Filipinos looking for good food and good time.  Here you create friendship. You enjoy the night away with music and dancing.  After a good meal of our very own delightful home-cooked quality recipes, we rest a bit, sit, relax, and enjoy such authenticity as the ticking of the clock slowly eats up the light of day and darkness covers the sky.
When the new owners collaborated to revive and renovate the place with the endeavor to bring the word "fine" in Finest, they came up with a good idea. The place itself is so adaptable to everybody that "fine" can be upgraded to a resounding "great" and create a superlative effect on everyone who experience what they have to offer…. Great Food and Entertainment at Great affordable prices for everybody.
Kudos to its new owners Ed Mendoza, Raffy Aguilar, and Emmer Valle, the staff from the back house, George, Macoy & Eric, the front house, Elsie, Naomi, Lana, Andrea and Ashley and that guy from the bar DJ Ruzz who never cease to amaze me. You have all been such a wonderful team that delighted the night with so much fun and laughter.
The live entertainment that night is a sure commitment to providing outstanding customer satisfaction.  It had such beautiful roster of talents that is so inviting, customers will want to go back again and again.  Manila's Finest is a sure bet and is equivalent to good food, pure entertainment, quality service, and awesome satisfaction.  Hats off!