Fe Dayo… An OFW, A Teacher, A Mother….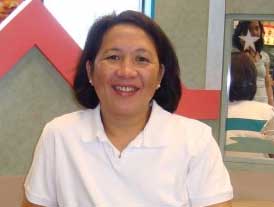 Fe Dayo… An OFW, A Teacher, A Mother….
By: Glynn Galla
Fe Dayo is one of the many Temporary Filipino Workers here in Canada,
doing her best, to provide a better life to her family.
Take time to read, you might find yourself in her shoe.
1. What was your first impression when you arrived in Canada?
My First impression upon arriving here in Canada is something that I could survive because I feel cold at that time and thinking of going back to the Philippines instead.

2. How long you're able to adjust being far from your love ones, weather, and peers? And how was it?
Adjusting to Peers and weather is not hard for me because you can easily find ways how to handle it, so it takes only few months. But the hardest thing to adjust is being far away from my 3 kids and my loving husband. Every day for 5 months here, I always cry because this is my first time away from them, but those tears make me strong.
3. What did you do to overcome your homesickness?
Every time I feel homesick I call my husband just to know if they are ok, and talk to my kids, telling them that I miss them so much! During my day off I go to Mall just to make use of my time than staying at home.
4. As an OFW is it worth working abroad for our country?
For me it's not worth working abroad, away from my family is one of the hardest things. As an OFW, the only thing that I see helpful is that I'm sending money back to the Philippines.
5. As a Filipino, was there any specific thing you could compare here in Canada & way back home?
One thing that I could compare as a Filipino is the so called the Mania Habit. We are used to do that in the Philippines but seldom happen here in Canada. Time is precious here.
6. Do you have any regrets of choosing Canada than teaching our young minds in the Philippines?
Yes, I feel regret in staying in Canada before, away from my family and I was not able to do my duties and responsibilities as a teacher, but I realize on how I could support my family especially my kids until they can finish their studies because my salary as a teacher there is not enough.
7. What do you miss most in your profession?
What I really miss most of my profession is when I teach the young ones on how to read and write, you can feel the happiness helping them, you impart to the good values as they grow.

8. Which do you prefer, giving your family a better life and bringing them here? Or given a chance to teach again in the Philippines?
My purpose why I grab this opportunity here in Canada is to give a better life to my family back home. And I'm looking forward to bring them here but I prefer also to teach here if given a chance.

9. What is the most challenging thing that happens to you being an OFW?
It doesn't matter what profession you have before, for as long as you have work and do your part in your work, everything will go smoothly. It challenges me a lot being an OFW. Profession is not important for as long as you earn more than you are earning in the Philippines, it's a big help in my part.

10. Was there any moment that you almost give up & considering the idea of going back to the Philippines, and why?
Yes, because of my children, they are still young and at this stage they need most of my care, it is my responsibility of guiding them as mother. I should be the one taking care of all their needs personally and talking to them over the phone or chatting with them thru internet won't be enough.
But I trust my husband to do my part, giving my kids guidance, advice and care. And it makes me comfortable working here and to continue to provide them all they need and giving them a better life.
11. As a Filipino working abroad, what is your wish for the year 2011?
My wish in this year is that I can sponsor my family and we will live here together.