The making of a columbarium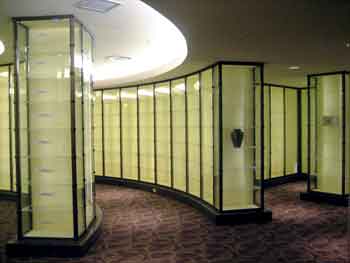 by Fr Edmund Vargas
"For those persons who are Christian, it seems appropriate to provide a burial place for their ashes in a beautiful area in or near the church where the person attended.  The church itself is the primary sacred place for Christians and to have easy access to a loved one's burial place at any time is a great comfort to family and friends of the deceased… It would also restore a venerable practice of Christian antiquity." (Bishop Fredrick B. Henry as quoted in a recent Calgary Herald article)
The first facility of its kind in a Catholic Church in Western Canada, the Sacred Heart Columbarium will contain 5,000 urns in 3,500 niches in a 5,400 square footage in the historic church basement. (A columbarium is a structure containing individual compartments or niches for the placement of cremated human remains in urns.) Available to Catholics as well as non-Catholics, it is expected to formally open after Easter.
The Roman Catholic Church "does not forbid cremation unless this is chosen for reasons which are contrary to Christian teaching." (Canon 1176, no. 3)  Following the changes in the Code of Canon Law in 1963, the Rite of Christian Funerals stipulated that Catholics can be cremated after the funeral.  In 1998, further changes were made, permitting the cremated remains to be present during the funeral.
Architect Ron Boruk created the glass/aluminum configuration of the columbarium which uses low emitting diodes (LED) lighting inside the niches. The columbarium area will also feature back-lit stained glass window frames on its walls.
The columbarium is one of three capital projects in celebration of the 100th foundation year of Sacred Heart Church (1910).  The new Narthex (gathering area), the new Meeting Hall underneath and the Storage Facility for Outreach Ministries are all scheduled to be completed before the year's end.  The entire church complex will also become wheel-chair accessible with the introduction of an elevator and two mechanical lifts.
The columbarium project will strengthen the grief support program at Sacred Heart Church.  Regular Memorial Masses for Dead and gatherings on grief-related issues will be introduced as part of the pastoral response to the growing need. In a way, the columbarium proceeds would help Sacred Heart Church to maximize its outreach ministries as well as help other parishes and churches in their respective pastoral endeavors. 741
I first thought about establishing a columbarium at Sacred Heart Church after a 2005 visit of Our Lady of the Angels Cathedral in Los Angeles with its mausoleum underneath its massive complex. My sabbatical stay in Rome in 2007 reinforced this pre-occupation with visits of the catacombs and basements of historic churches, including the Scavi (the Vatican Necropolis underneath St. Peter's Basilica, where the popes are buried, including  the remains of  no other than the first pope, St. Peter).
(For details, email shcolumbarium@shaw.ca or call Mark at 403-244-2741.)