LET'S ROCK CONCERT TOUR – A Review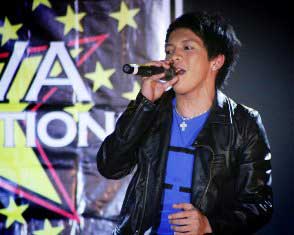 By:  Estrella "Tata" Delos Reyes (PT Press)
When Calgarians heard that Pilipinas Got Talent Winner Jovit Baldovino is due to arrive in Calgary to complete a series of concert for their Canada Tour 2011, everyone gave that look in their eyes of "ahhh who?".   But when a few chosen ones started googling it on their computers and finding through the internet medium who the guy was and how from his humble beginnings, he sky-rocketed to be another hit in the Philippine Music Industry, then the ordinary Filipino nodded in agreement that the singer is an epic rags to riches fairytale. The tale similar to that of a Nora Aunor, is a reminder to us all Filipinos, of the simplicity of life in our home country.
The night of the concert drew a throng of people from all quadrants of Calgary, and perhaps neighboring towns too. The sea of heads who swayed in line was another proof that a successful concert is about to happen.  Not very many knew the boy who hailed from Batangas Province bagged the grand prize in last year's talent-search based program by ABS-CBN.  Jovit is a natural talent and had shown too, a knack for being a funny guy.  His "batangueno" accent was a blast to all. His husky voice was a classic Rod Stewart of his generation.  The songs were perfectly chosen to bring about the best in him.  He was the most applauded artist that night, and I am so proud to have yet another talent whose entry to Philippine showbiz was that of his own efforts and not from who he knew in the industry.
Jovit was staged with the equally famous Yeng Constantino, who was the 1st Grand Prize Winner of Pinoy Dream Academy when it first aired a few years back.  Yeng, though not the typical product of a depressed family, nor from the remote province of the Philippines, was just the same, a natural talent that emerged from a middle-class family whose love in life was to write and sing songs. Branded as The Philippine Rock Princess, Yeng contributed to a small roster of talents that came from the simplest brood of non-showbiz clans.  With no backers to support her in her dreams, Yeng cocooned-out with beauty and grace in taking home the ultimate winnings from that talent search contest.  Although she did not get the same warm applaud as compared to how the public clapped for Jovit, she was just the same as entertaining and well-loved and accepted by her listening public.
From the parade of the two stars, a third talent was introduced in the persona of "Ate Gay", a stand-up comedian from back home, who entertains the viewing public with an array of Filipino jokes and laughable items that tickles the bones of everyone. All-dressed up as Wonder Woman, the comedic act of Ate Gay truly was an added bonus to all music lovers who needed a break from the nerve-wracking performances of Jovit & Yeng.
I congratulate and salute JAVA Promotions' Jun, Aning, Vangie, and Alicia for bringing together the Fil-Calgarians once again by promoting a jam-packed evening of songs and laughter. It is always a delight to take a short excuse from the cold spell and get warmed up by the powerful voices and talents of these young performers.  We look forward guys to your next project.  Congratulations and more power.