ROLYMIE BAKERY – A Delightful Place To Be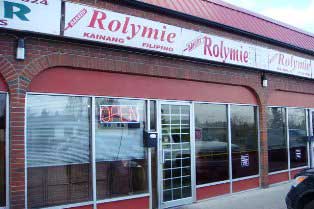 By Estrella "Tata" Delos Reyes
I don't know with others, but I am personally fond of supporting local businesses of our fellow "kababayans" here in Calgary.  I firmly believe in the saying that it is us "Pinoys" who can still uplift & promote the Filipino culture by availing services from people of our own kind.  If we are very critical of our own, we pose the limitations in helping our own progress.  Look at how the Chinese people do it.  They have developed this "love thy own" mentality, in order to help their own kind move ahead.  Do we need to ask how they became some of the wealthier  nationalities all over the globe?
If everyone thinks of the positive side and avoids the bickering of how some Filipinos use and abuse their countrymen, I guess we could help eliminate the negativity in the air.  After all, we should really stop assuming right?  We give them a try, and we give them a chance.
I use a Filipino Lawyer or Commissioner for Oaths for my legal stuff, I use a Filipino Dentist and Doctor for my medical woes, I use a local Filipino Store to buy my bread and chips, and I use a local Filipino Restaurant to enjoy and satisfy my cravings for the food I grew up with. For some, they say, they can cook the same food, and they might as well just cook it themselves. But sometimes too, we need to break away from the common and eat out so we can give our local Pinoy entrepreneur a sweet and fair chance to grown his business.
Such is with Calgary's Rolymie Bakery, which humbly began 13 years ago and still counting. They have served the community in the NE area with goodies from baked stuff to "lutong and lasang " Pinoy cuisines.  Sometimes, it is much better to take the easy route and buy cooked food which we don't usually have a taste of unless we get invited to parties.
Rolymie serves all sorts of baked products, desserts, and recipes original to Filipino taste.  As the years progressed, the little place was re-invented with spacing and then became more inviting as people now can sit and relax to enjoy their meals.  One needs to have been here from day one to now, in order to realize how this business transformed itself from its simple beginnings.  A bakery to a bakery-eatery.
I like the concept of how they now have the entertainment corner suited to add some fun for smaller party of eating machines.  It can now host less formal gatherings for some of our "kababayans" who would like to treat their friends with the goodness of original Pinoy recipes and cuisines straight from the kitchen of Rolymie. And the fun part of it is that, they offer occasional discount and promotional programs to make things more inviting to the public.  Such is the 10% all month-long of May to honor and commemorate Congressman Manny Pacquiao.
So come one come all! Congratulations to Rolymie for being simple, humble, and most of all, for being there and an easy fix-up for those who could not cook our food the right way.  Kudos!!!