A Review of the Pacquiao – Mosley Boxing Fight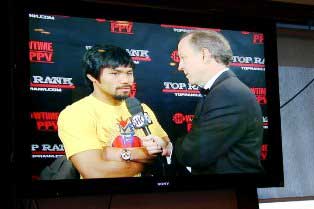 "The Fight That Proved It!"
A Review of the Pacquiao  -  Mosley Boxing Fight
By:  Estrella "Tata" Delos Reyes
The K of C – All Filipino Council's sponsorship of the Dinner con Watch Night was a bonus for some Calgarians who looked forward to some quality pre-Mother's Day celebration at Empress Restaurant and Buffet in Macleod Trail SW on the night of May 7th.  At $20 per head, which was also a fund-raising project for the organization, this indeed was a night to be excited about.  There was an array of Chinese Food to savor on, and a meeting of Filipino-Calgarians from the 4 quadrants of Calgary.  Everyone was glued to their chair as they enjoy the dinner and await for the big fight.  The undercards were a joy to watch but it wasn't until when the main event took place that everybody got stuck and wouldn't even seem to blink an eye.
The Fight was all about Manny Pacquaio for sure. It was mostly exciting during the first 3 to 4 rounds especially when he knocked Mosley down on the 3rd.  This created a momentum of tight expectation that maybe there will truly be a KO fight for Manny.  As the fight progressed, everything seemed to be just a show.  Mosley never seemed to have fought back and all he did was defensive moves proving how he was surprised with Manny's power punches. It was like charge for Manny and retreat for Mosley. A dance of a fight that was not
Although this was another victory for our "Pam Bansang Kamao" (Philippine Nation's Fist), it was not so much entertaining as his previous fights and I can honestly say it became boring and pretty regular at the end.  Many if not all, will say, it wasn't the fight they all expected.
We are happy of course that he won.  But it was so obvious he would, since each round was his winning bout. The scorecards need not be seen for it became apparent who is victorious on this 12-round battle.  Even the facial expressions were that of a star and his fan in the ring. The occasional focus on both men's lady lucks, brought about some woohooos and woohaaas. The punches that landed on Mosley's face became apparent at final interview where he was all red and the fan in him surfaced, when all he (Mosley) uttered was, "You are still the best pound for pound boxer".  Whoah!!! Such a shame for someone who captured so much attention and yet did not deliver a good fight.
Overall, this was only a regular fight that will not mark so much in the calendar of boxing history for Manny Pacquiao for all it became was, just another show. Maybe next time, just maybe. So who is next? Why not gather up signatures to get Mr. Mayweather's handlers and promoters, get him up on the ring with the fighting Congressman from Sarangani Province. The Philippine's pride Manny P.