MISS PHILIPPINES-CANADA (Calgary) Beauty Pageant 2011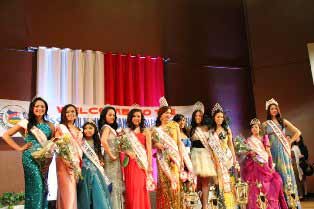 Sponsored by Visminsa Charities Foundation
June 4, 2011, Coronation Night
This year's Pageant was held at the Polish Canadian Cultural Center in the North East and was overall a successful night delivering entertainment and delight.  A Pageant held every two years, Visminsa Charities Foundation is consistent in their quest to search for young Filipina-Canadian beauties that will represent the Social and Cultural Community of the many Filipinos living here in Canada.
This year's contestants were not as many as the one held in 2009.  3 for the Junior, 4 for the Teen, and 5 for the Miss level. There were enough to fill the satges of award that usually ranges from 4th runner-up through to the grand winner.   This means that all enlisted competitors will eventually own a sash and hold some bouquets for themselves.
The Preliminary Night held last May 28th, covered the talent competition and first glimpse of the swimsuit category.  The packed Centre was filled with families and friends of the contestants who cheered for their bets.  The sea of heads was remarkably duplicated when the Coronation Night came about a week after, June 4th, at the same venue.
This time around excitement filled the air as the category for the gown will unveil.  But before such colorful scene, a repeat performance of the swimsuit category surfaced and this time, all contestants wore the same color swimsuit.  Red has enveloped the stage with stunning graceful walks from all three levels.  The Junior, the Teen, and the Miss.   It was during this part that final tabulation for the swimsuit award was held, adding counts from the Preliminary review.
The gown competition was a delightful sight and usually the core and climax of any beauty pageant.  This is where the contestants will be able to express their genuine gracefulness and show the audience how to carry the "walk".
The special awards were announced from Miss Congeniality & Miss Photogenic, bagged by Kristal Rubiano and Richelle Rapisura respectively.  The two special awards that was only exclusive to one contestant amongst all of them.  The awards such as Miss Talent and Miss Charity were given to each category on the other hand.
Alas, the final winners were announced: From the Junior Category, winners were 2nd runner-up Kim Guerrero, 1st runner-up Lexia Moratella, and Junior Miss Philippines-Canada is Krystal Dichoso. For the Teen Category, 3rd runner-up Alexia Perkins, 2nd runner-up Leah Roy, 1st runner-up Richelle Rapisura, and the grand winner as the ultimate Teen was Marifel Buluran as Miss Teen Philippines-Canada.  For the coveted title of Miss Philippines-Canada, winners were 4th runner-up Kristal Rubiano, 3rd runner-up Venneth Santos,  2nd runner-up Felisa Campusano, 1st runner-up Mariedelle Velasco, and as grand winner Miss Rangelle Fuentes.  Rangelle took the crown and like the other grand prize takers, they too, took their shining shimmering crowns of glory with a couple of Trophies as well.  Overall, this night was yet another success for the Visminsa Charities Foundation.