14th year of KASAYAHAN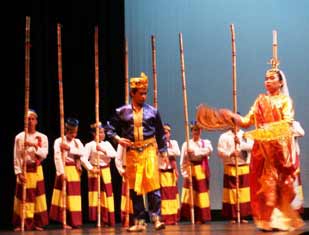 Calgary's most entertaining, enjoyable and well organized event took place recently and if you missed it – my question is – WHY? What could be more exciting than celebrating the 14th year of KASAYAHAN and sharing in the Filipino culture? PINOY TIMES was there and a great time was had by all!
Held on June 25 at the lavish Martha Cohen Theatre, the night was non-stop fun! This years show, the biggest and best ever for KASAYAHAN, showcased traditional as well as modern dance and singing. The 100+ performers ranged in age from 5 to 72 years old and were under the capable direction of Laurie Callao and Anna Avila, two of Calgary's favorite entertainers, and Allen Lomboy and Noel Lloren. The theme for 2011, "Alive", was continually revealed by the performers on stage as they showcased what they love and what they do best. Despite the rigorous practice and training involved to prepare for this event, Coordinator Ernie Miranda proved once again that good planning = good results. He was assisted by a host of people too numerous to list here, but they can all be proud of a job well done!
The standing room only crowd had their favorite acts but with so many quality performances it would be hard to pick just one. Looking beautiful and dressed to match, the performers clearly were having a good time. Even Miss Velasco, performing with some kind of rooster? on top of her head, took the backstage comments in style. With a lot of pictures and video available on Facebook, you should check out the highlights of the night! The collaboration between Calgary's best make up and costume people proved that teamwork gets the job done!
Many thanks to TRICO HOMES and the CALGARY WILDROSE LIONS CLUB and all the sponsors of this year's event for making KASAYAHAN 2011 "Alive" such a success. The parents and Volunteers also continue to make Calgary's favorite production bigger and better each year. Guaranteed! Many thanks to those who came out to watch and support KASAYAHAN 2011. We are already looking forward to next year's party, when KASAYAHAN partners with the PhilippineFest 2012 group at Calgary's new Genesis Centre. I hope you can attend!