PLATINUM FIREWORKS……THE PHILIPPINE TEAM FOR THE 2011 GLOBALFEST!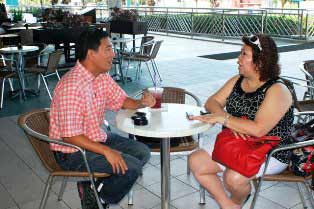 by C.K.
Backgrounder
Organized and duly registered in 2002 as the marketing arm of SIX-J Fireworks, the flagship corporation has been consistent with the valuable tradition of exceptional quality in its broad range of products and services.
With principal offices located in Valenzuela City, PLATINUM Fireworks, Inc.  also maintains its own factory in Sta. Maria, Bulacan-undeniably the fireworks capital of the Philippines.
The present organization consists of able administrative and qualified production personnel.  During the peak period which is towards the last quarter of the calendar year, the organization maintains a total of 60 employees (regular and contractual) to assist in the operations.  For the lean months, a regular employee base of 20 becomes sufficient.
As a trusted partner in year-round events and festivities, PLATINUM Fireworks, Inc.  has endured the challenge of the times with a broadening client base.  Generally associated to welcome the New Year, the aerial displays have brightened numerous town fiestas, significant family occasions and celebrated a distinguished list of corporate clients, marking their elaborate milestones.
At our Quality Assurance section, we stress compliance to rigid safety standards in handling, packaging, storage, delivery for all our consumer and more sophisticated product variants.  This safety compliance is an essential component we do not compromise.
Milestones
Conceptualized, organized and managed the 1st and 2nd Philippine International Pyromusical Competition held from Feb 14 – March 14, 2010 and Feb. 12 –March 12, 2011 at the Mall of Asia grounds. A total of twelve (12) countries participated namely: United States of America, Canada, China, Japan, Korea, United Kingdom, France, Portugal, Australia, Singapore, Malaysia and host country the Philippines.
Official Philippine Representative to the 15th, 16th, 17th, 21st and 22nd MACAU International Fireworks Display Contest, Macau, China. In October 2009 and October 2010, Platinum Fireworks, Inc garnered the 3rd place for both years. Recently appointed as the Official Representative to the 23rd staging of this same event scheduled on September 10 – October 1, 2011.
Official Philippine Representative to the Global Fest 2011 organized by the Trico Homes International Fireworks Festival to be held in Calgary, Canada on August 19 – 27, 2011.
Sole accredited provider of the fireworks displays of The Enchanted Kingdom, a theme park located in Sta. Rosa, Laguna succeeding from its affiliate Six-J Fireworks since 1995.  As a popular theme park that continues to thrill children and children at heart, the much sought after PLATINUM fireworks show has become a must-see and much-talked-about highlight in every visit made  by both local and foreign tourists.
Organizer of the 1st Enchanted Kingdom Asian Sky Wizardry Fireworks Competition held last October 2 – 23, 2010 in conjunction with the Enchanted Kingdom's 15th Anniversary Celebration. There were ten other Philippine based companies and three foreign based companies that participated.
source:  www.platinumfireworks.com
On my recent trip back home this year, I got a chance to have a one on one interview with man behind PLATINUM FIREWORKS, Mr. Joel Sta.Ana who organized together with Mall of Asia the World Musical Pyrotechnique Competition held in Manla last February 2011.
It's surprising to note that Mr. Sta. Ana is an accountant by profession.  But growing up, with his grandfather's business – Victory Fireworks -he has gained interest in fireworks at an early age.  But because of his exposure to different fireworks at an early age, he developed the passion for it.  He indicated that participating in different pyrotechnique competitions made him more passionate in his craft.  They have always tried on different techniques to make sure that they will give the best performance for their audience.
Mr. Sta. Ana took us the the barge where the fireworks were being set-up for Spain and Korea's presentation.  They have 3 barges -
one for each country and a spare in the middle in case they need more room to use for their fireworks.  It was an incredible site to
see how much preparation they have to do to set up everything.  He indicated that the guys working on the barges spend day and
night to work on the set-up.  I can't believe what my eyes saw on the barge, tons and tons of fireworks of different sizes and forms.
Aside from Mr. Joel Sta. Ana, I also had the chance to meet Mr. Roberto Basihan who is the the fireworks choreographer and show designer for Platinum Fireworks.   He is also the technical director for pyro operation for Philippine International Pyromusical competition or PIPC.  Mr. Basihan showed us the computerized system that they use for their pyrotechnique presentation.  It's amazing to know how much time and effort they spend in developing such presentation.  It's not just the fireworks but the choreography.
Roberto started his career in pyrotehcnique during the celebration of 100th Independence day at Roxas Boulevard for another local pyrotechnic company. He transfered to Platinum fireworks on JULY 2009 and since them they have won the 2010 and 2011 Macau Fireworks contest consecutively for 2 years.  I asked Roberto if took formal lessons in doing his job and his answer was "NO, I JUST LOVE DOING WHAT I DO!"
I had the chance to watch 2 evening of FIREWORKS COMPETITION and I can say that each country did an excellent performance.  It was quite sad that I never got the chance to watch the PHILIPPINES perfomance but I heard from my friends that it was an excellent evening of fireworks and musicality.  Since the Philippines was the host country, they are not participants for the competition; it was just an exhibition night for them to showcase their excellence in the pyrotechnique.
So for all of you out there, DON'T MISS THE ONCE IN A LIFETIME CHANCE TO WATCH THE PHILIPPINE TEAM, PLATINUM FIREWORKS on AUGUST 21, 2011 during the GLOBALFEST 2011.