The Lucila Project at the Alberta Arts Days – A. Blair McPherson School, Edmonton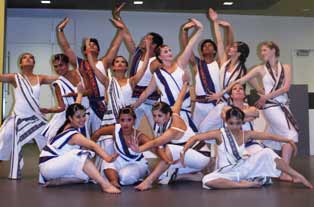 by Ida Beltran-Lucila
All across Alberta, from  Sept. 30 – Oct. 2 were events marking Alberta Arts Days.   Alberta Arts Days began  in  2008  as a  one-day  event  to  recognize  the value of Alberta's arts and  cultural communities.   Since  then,  it has expanded  into a vibrant,  three day province-wide celebration that  has helped  inspire  the  creation  of Culture  Days,  showcasing  the  province's artists,  arts organizations and cultural  identities, while encouraging Albertans to discover  the  important role the  arts  plays  in  developing  a  prosperous,  vibrant  society.    This  year,  a  total  of  64  host celebration sites were chosen by the Govt. of Alberta Culture and Community Spirit. This  is  a  brainchild  of Minister  of Culture  and Community  Spirit  Lindsay Blackett,  who  says "We've got so many great artists of all different types and genres in all different places, we have to come together as a province to celebrate it."  He fondly refers this as the "Pied Piper" project, "We're just going to keep adding people until every Albertan joins in, like the Pied Piper."
In Edmonton,  the  three day event was marked  in  various ways:  free admission  to  provincially owned  historic  sites, attractions and  museums;  Film  & Writing workshops,  and a Storytelling Festival at  the Edmonton Public Library; tours of the Winspear and Citadel Theatres; Edmonton Symphony Orchestra open rehearsals and special performances; InFuse, by  the National Black Coalition of Canada, Edmonton chapter; and workshops and exhibits from  the artists at the Nina Haggerty Centre for  the Arts.   Two  schools were also chosen  to participate  in this Alberta Arts Days Initiative: the Bishop Greschuk Elementary School and the A. Blair McPherson School.
Amongst  the  artists  showcased  at  the  A.  Blair  McPherson  (ABM)  School  Alberta  Arts Days Celebration is The Lucila Project. This is a dance company specializing in modern ballet pieces infused with Philippine traditional customs and images.  Under  the artistic direction of Jojo Lucila and  Ida  Beltran-Lucila,  they  held  a  dance  photo  exhibit,  conducted  a  lecture-demonstration dance  class  and  presented  dances  ranging  from  the  contemporary,  lyrical,  athletic  and  tribal
styles.   Their  participation introduced  the community  to Philippine ethnic dances and  traditions, music and modern ballet technique.
Other  performers/artists at  the ABM were: West African Dance Troupe  (interactive workshop); French, German and Italian opera; traditional  Indian dance; Prince Charles School Fiddlers and Dancers; Rosslyn School Chinese and Lion Dancers; 3rd Street Beat; Beaumont Society  School of  Dance;  Bobby  Boogaloo;  Cindy  Clarke  The Clay  Teacher;  City  Arts Centre  Director's Cut Program; Gail de Vos (Storyteller); Gail Sobat (Author); Jeff Hendrick (Saxophonist, Soul-singer, Songwriter  &  Canadian  Producer);  Shelley's  Dance  Company;  and  Les  Bucheron  French Canadian Display.
It  was  a  great  couple  of  days  for  participating  in  art,  dance  and  improvisation  workshops, viewing exhibits, watching performances and shopping  in  the International Market.   The general feedback  is enthusiasm  for next year's celebration, proving the concept of the Alberta Arts Days as a "Pied Piper" project.