NATIONAL SENIORS DAY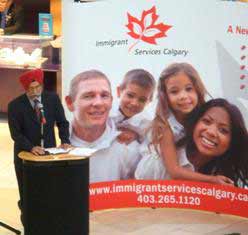 Saturday October 1 was already looking like a hectic day for us, when, at the last moment we were asked to attend a special event. Why Immigrant Services Calgary decided one day before that the Filipino community should be invited at all leaves a few of us with unanswered questions. Their so called "National Seniors Day" held at Sunridge Mall and lasting less than two hours was obviously only promoted in the Chinese and Punjab communities. I did see one or two Korean Seniors, so we can ask, of the 100 or so different nationalities we have in Calgary, why did they choose to keep this event a secret? Using City, Provincial and Federal Funding, they could use a few lessons in promotion.
It was obvious that they saw their error when it was too late, as the start time was delayed nearly 30 minutes. This was because the Volunteers scurried around the Mall looking for people to fill the seats they set up. Sometimes to justify being a recipient of taxpayer's money, groups have to show there is an interest in the work their department does. Being the token white guy there and choosing the convenience of standing in the back to allow better viewing for photos and the stage, I had to tell the usher three times that it was NOT A PROBLEM for me! Sitting for long periods of time is OK for Seniors and lazy people, neither of which I consider myself.
As I mentioned, starting late really wasn't a problem and if you are using Filipino Time then do not worry. Yet another presentation of the Lion Dance is not a big deal. Some things do become boring after so many times…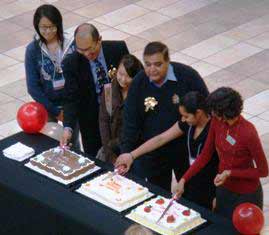 Without wasting more space on this so called event, I will tell you that the only interesting or entertaining parts were the Folk Dance, Punjabi Traditional Dance and the Tai Chi demonstration. The rest of the time was used to promote themselves, rather than their services, such as taking 15 minutes telling the seniors about the Immigrant Services Calgary website. (How many Punjabi, Chinese or Korean 80 year olds surf the 'net anyway?) They also used this event to give themselves awards and certificates, as well as Raffle Draws that were not open to the public! Additionally, it took three Volunteers to guard the cakes after the ceremonial cake cutting, choosing not to serve it until one and a half hours later. Instead, the person in charge decided to wait until noon when the Mall was extremely busy, causing a stampede. Perhaps they wanted the Chinese seniors to experience a real Calgary Stampede? A further three Volunteers were occupied guarding the few cookies and coffee they had before realizing that public tax dollars were behind this show.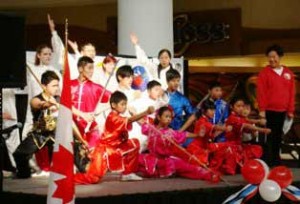 All in all, I think this is one Government Department that needs to be reviewed by our City, Province or Federal Governments. When it comes to cutbacks in a slow economy, duplicating a service that is already provided free by the Canadian Immigration Department, as well as other groups like The Centre For Newcomers, a serious look should be taken into this group. Our elected officials should review funding of Immigrant Services Calgary; such waste of our tax dollars is unnecessary!