PINOY LIVING Today Magazine Launch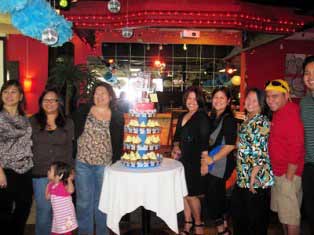 October 2, 2011 – Barrio Fiesta Restaurant, Calgary, Alberta
The maiden issue of Connie Kriaski's first magazine PINOY LIVING TODAY all in high definition glossy pages is in circulation now.  The launching held at Barrio Fiesta on Sunday October 2nd was greatly welcomed by her friends, family, advertisers, contributors, and staff.
Connie's welcoming speech was a revelation of how she never stops to cultivate on what she enjoys doing.  Her motivation to keep abreast with her love for written media are her fellow "kababayans" to whom she wants to help with advertising their businesses and help them win a positive exposure by being able to reach out to the Filipino-Canadian communities all over Alberta.
The magazine's first issue was a variety of articles that ranged from people, to travel and tourism, to fashion senses, to food and health, and to feature Fil-Canadian Entrepreneur.  The magazine gives us an in depth write-up of a particular place, person, and activity that most Filipinos are highly interested in. It aims to touch every Filipino's desire to continue their love for their country and own culture, even while living in Canadian soil.
The magazine is out in stalls and stands of most Filipino Stores, and businesses all over Calgary, and may also be found in some places outside Calgary.
We welcome the birth of this project and wish it success in every way as we head and move on to the next issue.  Congratulations and Mabuhay ang Pinoy!
PLEASE GET A COPY  – IN VARIOUS STALLS RIGHT NOW!