ALBERTA ARTS DAYS 2011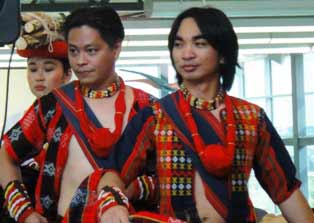 Cardel Place was the scene of another excellent performance by some of Calgary's most talented Filipinos. As part of the Alberta Arts Days celebrations, October 1 was a proud day for all Pinoys! The generosity of the Cardel Place team allowed a large group of Philippine performers the chance to reach a crowd of both Filipinos and others. Since this event was FREE it meant that more new people could be exposed to the vast pool of Pinoy talent that Calgary is blessed with.
Although the facilities used for this event were a challenge – stage, sound system, and other noise – it did not deter the many performers – aged 5-80 years old – from having a great time. This was evident in the many smiles and happy faces of the performers. These smiles were real as the usual pressure of performing was not present and when the performers are having fun – the audience has fun too! It allowed the Directors of the show a chance to experiment and play around. The Delrieah Trio of beautiful ladies surprised everyone, sharing the spotlight with – none other than Hip Hop specialist J Lou herself! Things went so well that they are already planning for future events. Perhaps a Tour or a sell out at the Dome is next?
The Canadian and Philippine flags were paraded in by our proud seniors from the Filipino Calgarian Seniors Club who also performed a lively dance number later. A stunning rendition of the Canadian National Anthem was done by Miss World Canada 2011 Riza Santos while her mum sang Bayang Magiliw. Other special numbers included a loving duet by Mike and Gilda, singing Dahil sa Iyo, that made you want to hug the person beside you. Lucky for me it was my wife so I did not get punched out…
A Hip Hop Dance, Glee, The Cinquonized Dance Crew, a great solo performance by Richelle and a beautiful piece by Miss Carmen Camacho kept the audience mesmerized. Well known Calgary Beauty Queens Riza, Anna, Mariedelle (and Ludy) mingled with the crowd and filled as many photo and autograph requests as time would allow. Our seniors, always gorgeous, looked awesome on this day and had a few Beauty Queens of their own! Traditional dances of Tinikling, Estudiantina, Pandango sa Ilaw, Singkil, Ifugao, Kinikini and Ngilin, always crowd favorites, were presented flawlessly. The gorgeous girls and guys were breathtaking in a variety of costumes and outfits; they must have a very talented seamstress!
The Grand Finale – Grease! – was a spectacle to behold! It was obvious that everyone had a good time and the closing number was fitting. No one wanted the excitement to end – but they'll be back! Don't miss them!
This production would not have been possible without the many Volunteers behind the scenes as well as the Performers and their friends and families. The KASAYAHAN PERFORMING ARTS FOUNDATION, supported by PCCF, the lighting and sound crew, and Master of Ceremonies Anna, did an admirable and well organized job and the appreciative audience thanks you all. A special Thank You to Cayenne and Cathia for preparing the tasty sandwiches!