Adobo sojourns of the chef on the hill – Family Adobo

"FAMILY ADOBO"
By:  Nikko Gueco (food inc)
What a fitting article for this column that was offered to me which I entitled "adobo…. "And have something about adobo.
First of all, I would like to thank my publisher/editor-in-chief, Connie Kriaski, for giving me the chance to write something about food segment. What a dream come true for someone who is a student of the culinary arts. So inline with this assignment I had to think of a title for this column. So I thought of "adobo sojourn…. ". To give honor to the most famous dish of the Filipinos. And going back to my first line. "… Fitting article for this column…"
So for weeks I have been in search of the restaurant or the recipe that would be fit for the first article of my column. And today a friend of mine brought out her left over adobo at home. "Kailangan mong tikman ang adobo ko" she goes. And after a few bites she goes "masarap ang adobo ko di ba?
Indeed, it is by far the best adobo I've ever tasted. I am proud of the adobo that my mama thought me (sorry mama). This adobo was fascinating, amazing and simply delicious. HOW SO? Sabihin na natin ang  bawal ang masarap. Bawal no.1 taba ng baboy. Bawal no. 2 excess oil (fat) simply knowing that this 2 ingredients are present di mo ba masasabi na masarap na to. Hhhmmm let me try to describe it. Imagine adobo with garlic n soy sauce to taste. As intense as you bite the pork plus the very tasty fat taste like bacon without its crispiness but all its glory. Plus the oil nakahalo sa rice mo; perfect as I may say. Simply perfect. Again by far the best adobo.
As instructor of culinary arts, I had lots of cookbooks and a wide array of knowledge from my studies. The tradition passed on by my mentors as the basis of my teachings. Standards years in usage. But one of the things I taught my students were cooking comes from the heart. Cooking is simply passion. Passion is love. Cooking because you love it and cooking for the people you love.
This adobo recipe is indeed full of passion. This particular recipe of adobo is a creation of my friend's dad. Even before I got close to this friend of mine. I have been hearing stories about her cooking. Which I shrugged of as ordinary people know how to cook. Hindi ba?  Then I got to taste the cooking. After that I wouldn't say it's ordinary anymore. It is good cooking.  She does know her way in the kitchen. But as we got closer, she told me stories like. At grade 3 her father would take her to the palengke to do marketing. At that age she knows her way in the market. She also told me that there catering business started when a lot of her parent's friends were asking her dad to cook them certain dishes. It lit a light bulb in her mom's enterprising mind to make her husbands passion into a business which is what happened. Unfortunately my dad friends passed away last 2008 a year before she came here.
I believe the main reason why my friends cooking are so fantastic and amazing. In every cut of the knife, stir of the dish, flows the eternal love of a daughter to her father. A forever show of reverence, simple thanks for giving her life.
So in every subo of this adobo. i felt the love and the passion.
so here is the recipe may we all remember to cook with passion and love. be thankful for all that we have.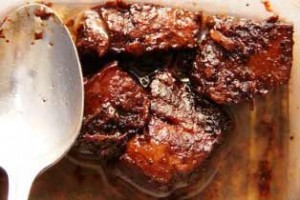 Pork adobo ala Tubianosa
1k            pork belly
2 cloves garlic
3/4 cup   vinegar
1/4 cup   soy sauce
1tsp        pepper
(piece of your heart)
Procedure: put all ingredients together boil then simmer in low heat. Stirring occasionally, till sauces cover the pork and oil comes out of the meat.
Please try not to add any other ingredients to eat. Such onion bay leaf or anything else that you know should be in an adobo recipe.  Just using the above mentioned ingredients would insure the tastiness of the dish.
As my friend told one time her big brother tried to enhance their family recipe by adding sesame oil to the adobo recipe all he heard from his dad was. ""Wag mong dagdagan ng kahit ano. Yan na yung adobo"
Which I would end by saying…"there is no need to add anything to it. Because the love that was put into was enough".