K of C's Columbian Squires' Winter Special 2011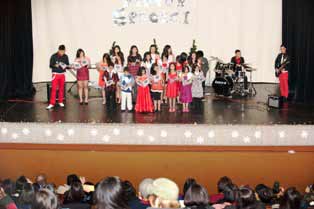 By:  Kristal Mae Rubiano
This is truly a very special concert for the group of Columbian Squire and Roses of Squires' headed by Chief Leaders Kurt Rubiano & Theresa Chicote who put the whole concert together along with the Knights of Columbus' Youth Council's Councilors and parents. The Columbian Squires Band 5550 and the members of the Roses of Squires had been practicing twice a week for at least 3 hours since October up until the day of the mini concert on December 11, 2011 at SAIT's  Orpheus Theatre.
The Squires and Roses of Squires have been together for about a year and have been fundraising for special events where they would either want to partake in or host themselves. This mini concert of talent that came from kids ranging from 10 – 19 year olds was just for that; to get funding for future camping trips and instruments they would like to have. And what's a winter special concert without special performers? Along with the talents of 10 year old Denzel Borja and his recorder and the cute Rica Delos Reyes and her voice to the musical talents from Kurt Rubiano, they were also blessed with a participation by beautiful voice coming from Laurice Bermillo.
Although some of these kids have been performing since they were as young as 3, this Winter Special had its own type of significance because it was all thought of, made by and performed by the kids! The venue was given to them with no cost. Thanks for the help from parent Apple Suing. It was decorated by the parents, and when it came to show time, Councilor Tata Delos Reyes and Squire Jordan Nario took on the role as back stage managers.  With the help from every member they were able to carry out the production of 'A Winter Special 2011'. Truly a very special concert that the kids worked hard on, making memories they will never forget.
On behalf of all the members of the Knights of Columbus San Lorenzo Ruiz Council 14746, the Columbian Squires Band 5550, and Roses of Squires, we would like to say a special thank you to everyone who came out to support the kids with their mini concert and hoped you enjoyed just as much as we enjoyed performing for you guys!