UMAC Cargo Forwarders and Pinoy Times Join Forces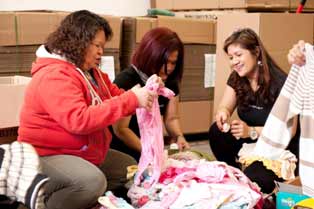 by:  Tata "Tatsky" Gascon-delos Reyes
To send off cargos of relief goods to the battered and devastated "kababayans" in Iligan City and Cagayan de Oro, UMAC Cargo Forwarders and Pinoy Times combined their teams of supportive staffs to sort out the humongous donations received at the UMAC warehouse in the North East. When PT announced that it was going to accept donations of non-perishable goods such as old clothing, shoes, blankets, towels ….etc., many of our followers heeded to the call and it started pouring as early as the next day after the announcement by Connie Kriaski on her Pinoy Times Club Facebook page.
On the eve of Christmas, December 24, Connie Kriaski, myself, and some other colleagues were at the warehouse to start organizing and sorting the mountain of black bags filled with used clothing and other items that were dropped off at the site in just about 5 days. We seem to have fun getting together in such short notice and instantly created camaraderie that seem unstoppable. But deep in our hearts, we knew that the fun and laughter were all but just a façade. The items were slowly scattered on the covered floor and as we began to sort them, a combination of joy and sadness ate our being. Joy that we are going to have these sent to them and it will relieve them at least of some hardships, as they slowly put their lives back together. But extreme sadness too, for it will never be the same again.
The lives and memories lost and swept away by the flash floods that fateful day of December, barely one week away from celebrating what could have been the happiest time of the year, are the saddest events that will forever haunt the people of Cagayan de Oro and Iligan City. No one ever imagined that the dimmest time of the day will be the darkest in the history books of both provinces.
It is indeed going to be a long recovery period for these people. But we will never cease.  Life goes on. We all move on. We will all unite and stand for them and help them carry their cross. No matter how far and wide the oceans are that separates the Philippines and Canada, Pinoy Times and UMAC Cargo Forwarders will continue to carry the torch to rebuild and stay strong.
Thank you UMAC from the bottom of PinoyTimes' heart…Thank you.