Premier and Cabinet Ministers visit Calgary on tour of the Province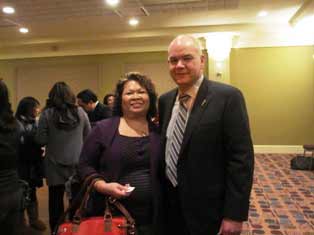 Premier Alison Redford and her Cabinet team have been travelling across the province to talk with Albertans about their priorities for the future. The Premier and Ministers have met with various groups and organizations, attending events in all regions of the province on the tour which started on Monday, January 23 and ended Thursday, January 26.
"It's so important for us to continue meeting face-to-face with Albertans in their own communities. It gives us the opportunity to hear from those closest to their local issues and to learn about the community's hopes for the future. This is the kind of listening and regular interaction Albertans can expect from this government," said Premier Alison Redford.
As Political Minister for Calgary, Manmeet Bhullar was responsible for the Calgary and area tour. Calgary's seniors, students, health care professionals, business groups and community leaders among others had the chance to converse with the Premier and Ministers on various topics, such as public health care, charter schools, small business regulations, and support for human rights.
On the health front, Minister Bhullar made it clear that providing Albertans with the care they need when they need it is a priority for our elected officials. Every hour, he said, the provincial government spends $1.7 million—about $41 million per day—to maintain and improve Alberta's public health care system.
Education remains a high priority for Albertans and was constantly raised on the tour.  Charter Schools was a hot topic among Calgarians who believe that they should be able to choose the educational path that they feel is the right fit for their family. Charter schools help different ethnic groups and their children retain parts of their culture.  Albertans are fortunate to have abundant access to varying charter schools, and Cabinet heard that they are an important and irreplaceable part of our education system.
During this tour, the Ministers assured Albertans that one of their goals is to ensure that Albertans feel safe and included in all parts of Alberta society.
"All the citizens of this province are offered an equal opportunity to earn a living, find a place to live and enjoy Government services without facing discrimination. As always, human rights protection remains at the forefront of our commitment to Albertans," said Minister Bhullar.
This is in contrast with reports that the Wildrose Party has threatened they will get rid of the Human Rights Commission. The Human Rights Commission is the primary mechanism for protecting Albertans from discrimination including ethnic discrimination.  It allows victims to avoid the expense of legal fees that would be necessary if they went to court to protect their rights.
Ensuring a supportive environment for small businesses was an important topic on the tour as well.
"Approximately 96 per cent of businesses in Alberta are classified as small businesses, provide goods and services across every industry and employ over 1/3 of all private sector workers. Ultimately, they play a key role in our economic growth," said Bhullar, explaining that the Government of Alberta has used this tour to listen to Albertans about improving the regulatory environment in which small businesses operate.
Judging by the attendance at the events in Calgary, Albertans are eager to engage Premier Alison Redford and her new Cabinet.  Cabinet tours provide a good opportunity to confirm the policies and ideas envisioned by the Premier and Ministers are working.
"Sometimes great policy ideas don't get implemented in the manner we had envisioned," said Minister Bhullar.  "By hearing from Albertans, we can ensure that the priorities we hear are being listened to and acted upon."