SAGIP CDO BENEFIT CONCERT 2012 – January 22, 2012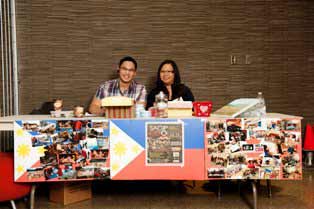 – A remarkable journey to help our "kababayans" from Cagayan De Oro and and Iligan City rise again…. after the devastation of flash flooding…–
The help CDO and One for Iligan Campaign was an overwhelming success when Pinoy Times and Pinoy Radio 94.7 FM combined their efforts in raising more and additional funds to continuously rebuild the havoc caused by the storm that hit this part of our country in December 2011 just days short of Christmas Day.
On January 22, 2012, friends, family and the large readership of Pinoy Times and listeners of Pinoy Radio 94.7 FM gathered at the new Genesis Wellness Centre in the North East of the City not just to attend a simple benefit concert, but to prove that our love for our Country the Philippines is still in the hearts of many.
Publisher Connie Kriaski, and Disc Jockey Reth Barnachea "aka" Juan Manila, never had any second thoughts when the concept of organizing a fund-raising event that would benefit the entire provinces of Cagayan De Oro and Iligan City hardly hit by Typhoon "Sendong" was conceptualize.
With the resounding agreement by most of their followers, a mini concert was born. The guest performers, who donated their precious time and talent, were uniform in the spirit of giving. The local talents, the friends who devoted their hours to volunteer either in selling tickets or refreshments, and the many others who came to have a feel-good day, poured their hearts out. Special Gratitude goes to the performers who gave their best. The program starters Evolution Dancers, Singers Mary Kate Aquino, Jasmin Remoquillo, Maria Fernandez, Laurice Bermillo, Sherry Ann Fulgencio, Rey Pamatian, Joanne Tamayo, & Darren Espanto, Guitarist Robert Ugaddan, and Violinist Joseph Calisterio.
The collaboration of emcees Juan Manila and yours truly, plus the talents of Alan Isidoro as the Program Director with the music and sounds DJ Services by Ronnel from Rolymie Sounds and Balloons, everything were simply put in the right place at the right time.
Money from tickets sales and 50/50, including the ones already made form Pinoy Times' Christmas Party less all expenses incurred, netted over $2,700. The conversion to Pesos? More than 100,000 PHP and Pinoy Times hand delivered this to Sagip Kapamilya in Manila to complete the project.
Congratulations Pinoy Times and Pinoy Radio 94.7 FM for a job well done!