THE MEGASTAR, SHARON CUNETA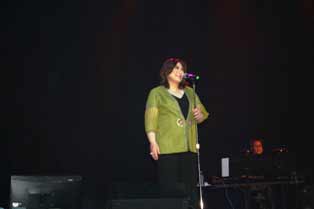 by:  Connie Kriaski
Photo credits:  Rochellie Ugaddan
River Cree Casino and Resort made the Filipinos happy and contend again by having our Megastar, Ms. Sharon Cuneta on stage at The Venue on June 8, 2012.  Filipinos were all anxiously waiting for the show to start at exactly 8 pm.  There were slides being shown when the megastar started her career since she was a child and thus making the audience more anxious to see Ms. Cuneta perform on stage.  From all the background music, the voice emerged and Ms. Cuneta dominated the stage.
Singing most of the theme songs from the movies, there is no doubt that Ms. Cuneta will keep her title forever as the MEGASTAR.  From all the songs that she has sung, she captured the audience with how she sang her songs full of emotions and coming from her heart.  There was also a part in the show where she sang two of the famous songs of Adele.  It changed the beat of the show from her melodramatic theme songs to a more lively beat to the songs of Adele.  She also came with 2 background singers Petite and Edward who rendered and Andrea Bocelli number.  Sharon performs with passion; she makes her fans feel the warmth of her performance; her audience impact is over and above expections.  She shared her visions about her family, her kids and how they adopted their son who was just a day old and now he's a true Cuneta-Pangilinan.  Their son is now 2 1/2 years old.
After the 2 hour show, Sharon Cuneta spend some time to sign the CD's the fans bought before the show.  We manage to line up and get my CDs signed and we were given the chance to ask 2 questions when I told them that I am a publisher of the Filipino community paper in Calgary.
Here goes our short interview:
PT (Connie): What can you tell your fans about any upcoming events here in Canada?
Sharon: I will be in Toronto on the 15, and Vancouver in 17th. 2nd time in Toronto , 2nd time in Vancouver & 2nd time tonight here. I'm just so grateful and I hope that they all come because it's gonna be a show full of , you know laughter and some happy tears and a trip down memory lane and a romantic night
PT (Connie): What do you like most performing to your fans especially when you have shows abroad?
Sharon: It's like bringing a little bit of home with me to them. So, I know its not just me but it's also that they miss the Philippines and that I'm very happy that Im able to do my part in bringing a little bit of home to them and a little happiness.And then bring them on with me on a trip down memory lane especially the ones who grew up with me, that makes me so happy. I am eternally grateful.
PT (Connie): We will definitely look forward to more shows from Ms. Sharon Cuneta in the near future.
Sharon: Thank you so much.
We would like to express our thanks to RIVERCREE RESORT AND CASINO, to Ms. Katie Mason and Ms. Jennifer Fields for bringing a Filipino artist who gave all the Filipinos here in Alberta an evening of world class entertainment.  Until next time, thanks to Ms. Cuneta for bringing joy to her fans and to Rivercree Casino and Resort for believing in our world class Filipino artists!