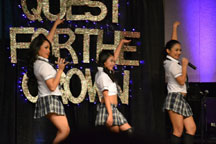 by Tata "Tatsky" Gascon-Delos Reyes
When Pinoy Times was  asked to participate as media sponsor for a  local concert here in Calgary, there was no second thoughts for the Publisher to offer its affirmation.  Pinoy Times is all about reaching out to the Filipinos in Alberta.  The promotion was not as grandeur as those of the [...]
About Ampalaya – Bitter Melon
Scientific name – Momordica charantia Linn
Ampalaya has long been a popular part of many Asian vegetable dishes. Though notorious for its bitter taste, Ampalaya is rich in iron, potassium, beta-carotene and other nutrients. But aside from its role as a healthy food, Ampalaya is especially valued by diabetics for [...]
For the first time in more than 5 years I took a month off from my various writing assignments and obligations and took my favorite wife Ludy on a vacation in B.C.'s Okanagan. This is the second year in a row we toured that beautiful area in October and I strongly recommend it! Accommodations are [...]
by:  Tata "Tatsky" Gascon-Delos Reyes
Good or bad?
On The use of Tagalog, your own language, in a foreign land.
Michelle Aguilar  -  Calgary, AB
"For me its good. Only if everyone speaks the same language. But if not, I think it is unethical. Some people may think that your talking about them even if your not".
Katherine Ramirez [...]
by Pastor Nilo Briones
Jesus Word of Life International (JwoL) Fellowship, an evangelical  church celebrates thanksgiving worship and fellowship every Saturday at NEBC Bldg. at 175 Whitefield Drive NE from 6:00 p.m. to 7:30 p.m. If you need prayers, you may call Pastor Nilo at (587) 215-3377.  "God, mission, our mission:  to preach the gospel, feed [...]
A BEAUTIFUL FILIPINO RELIGIOUS TRADITION
SIMBANG GABI  is one of the longest and most popular among the Filipino traditions in the Philippines.  It is when Catholic churches across the nation start to open their doors shortly before the break of dawn to welcome the faithful to the Simbang Gabi mass.   The custom lasts for nine days, [...]
Winter is upon us, and that means snow and ice can create dangerous winter driving. We all need plan ahead and drive according to the conditions.
Snowplow operators keep our roads and provincial highways clear and open to traffic. They're committed to maintaining safe winter driving conditions, but they can't do it [...]
Canadian PM bullish, vows more investment
Philippine Daily Inquirer
Sunday, November 11th, 2012
BULLISH OUTLOOK. Visiting Canadian Prime Minister Stephen Harper, left, gestures following a joint news conference with President Benigno Aquino III on Saturday, November 10, 2012 at Malacañang Palace grounds in Manila, Philippines. It was the first visit by a Canadian head of [...]
Alberta celebrates five years of Safe Communities with more resources to reduce gang activities
Edmonton… The Alberta government is marking five years of the Safe Communities Initiative by providing more supports to communities to help them take action against criminal gangs.
"In the past five years, Alberta's Safe Communities initiative has helped our [...]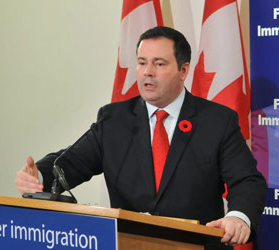 Up to 35,000 parents and grandparents to be reunited with families
Mississauga, November 5, 2012 — After the first year of the Action Plan for Faster Family Reunification, major progress has been made in reuniting families more quickly and reducing the backlog of Parent and Grandparent ( PGP ) program applications, Citizenship, Immigration and Multiculturalism Minister [...]