Kuya Bong's Kusina
Scientific name – Momordica charantia Linn
Ampalaya has long been a popular part of many Asian vegetable dishes. Though notorious for its bitter taste, Ampalaya is rich in iron, potassium, beta-carotene and other nutrients. But aside from its role as a healthy food, Ampalaya is especially valued by diabetics for its known anti-diabetes properties. The traditional remedy is made by pounding the raw fruits of Ampalaya into a bitter liquid, or by boiling the leaves and fruits for a few minutes, the resulting water then drank as a herbal tea.
Ampalaya has the most documented scientific reports that cite its blood sugar-lowering benefit. Research worldwide since the 1960s cites the plant's key compounds, notably polypeptide-P, a plant insulin known to lower blood sugar levels. The plant's insulin-like benefits have long-been enjoyed by many diabetics, who include Ampalaya as part of their daily diet, either eaten as a vegetable or taken as a tea. With the traditional use supported by modern scientific validation of the plant's benefits, the Ampalaya is the single most promising plant/herb for diabetes today.
Now you can enjoy Ampalaya's blood-sugar lowering benefits in a pleasant-tasting tea.
While science has proven that Ampalaya or Bitter Melon contains anti-diabetic properties, transforming the raw fruits into a finished product may alter or diminish the plant's benefit through the manufacturing process. This study, which used Charantia itself as the tea in subjects, confirms that our product has preserved health benefits of Ampalaya. Every time you drink Charantia, rest assured you are taking in 100% Ampalaya goodness.
"Ampalaya fruit prepared as a tea is well- tolerated and may be a useful dietary adjunct in the treatment of type-2 diabetes. It has minor gastrointestinal side effects of increased bowel frequency but beneficial to those diabetic patients who are constipated." R. Rosales, MD and R. Fernando, MD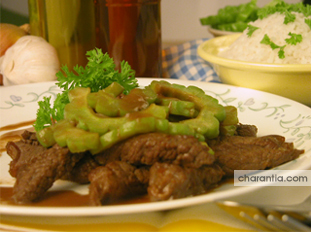 Ingredients
2-4 medium sized ampalayas
4 cloves crushed garlic
2 tbsp. chopped onion
6 ginger cloves, sliced
½ kilo Beef, cut into 1 x ½ inch strips
¼ cup water
3 tbsp. corn starch
2 tbsp. sesame oil
½ soy sauce
olive oil
Directions
Mix corn starch, sesame oil, soy sauce and 3 crushed garlic cloves. Marinate beef strips in mixture for 20 minutes.
Slice ampalaya lengthwise to discard the seeds with a spoon, then cut into strips.
In a separate pan, heat olive oil and cook the beef. Set aside its marinade for later use.
When already cooked, remove beef from the pan then sauté garlic, 2 ginger slices and onion till slightly brown.
Add the ampalaya slices, the beef with its marinade and soy sauce, and simmer for 3 to 5 minutes. Best served hot with rice.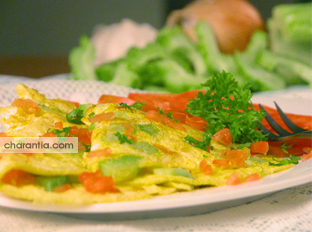 A classic dish, but given a more chef-style presentation.  Makes a perfect breakfast.
Ingredients
1 medium sized ampalaya, de-seeded and chopped
1 small onion, chopped
3 garlic cloves, chopped
tomatoes, chopped
2 eggs, beaten
olive oil for sautéing
Directions
Saute garlic and onion until slightly brown.
Add tomatoes and ampalaya. Stir fry for a few more seconds.
Switch heat into low-fire.
Pour the eggs and let stand until cooked. Take care not to overcook. It should be slightly brown.
Season with pepper or salt then serve.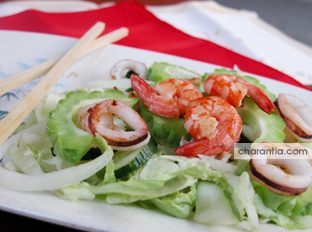 Grilled shrimp, squid rings, mussels and fish fillet combined with salad greens for a wonderful salad recipe.
Ingredients
6 pcs. medium shrimp, peeled and deveined
1/2 cup squid, cut into rings
1/4 cup fish fillet (white meat)
1/4 cup mussels
1/4 cup ampalaya, seeded and sliced
1/4 cup cucumber, sliced into bite size pieces
1 small onion sliced
Lettuce leaves of your choice
Dressing
6 tbsp. red wine vinegar
2 tbsp. lemon juice
1 tsp. extra-virgin olive oil
1/4 tsp sugar
a pinch of salt and pepper
Directions
Grill the shrimp, squid rings, mussels and fish fillet.
Combine all ingredients for the salad dressing. Stir well.
Prepare sliced veggies into a bowl.
Toss in cooked seafood and add dressing. Serve immediately
SOURCE:  www.charantia.com