My Amazing Journey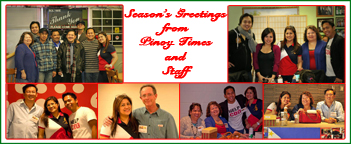 by: Glynn Labial Galla
As I'm writing this another chapter of my life, I'm here waiting at the boarding gate of Calgary Airport. I'm on my way to Toronto to fulfil another milestone of my it. Way back in 2008, this airport did not change a lot that reminds me how this "pit stop" show and welcome me to another page. Away from my family and towards an amazing race of my dream.
Clueless and wishful that as I started a new beginning in this foreign land, things will be alright. "This is a pre-boarding announcement for flight to Toronto" as soon as i heard that, I started to get ready because soon we will be boarding. A bit nervous as I'm getting nearer to my destination. As soon as the plane takes off you can see how high you above the ground, how high you've been since you start making your dreams to happen. As we are half through the flight I didn't realize that I fall asleep. Maybe I was tired because I wake up so early in the morning just making it sure that I wont miss my morning flight.
Someone caught my attention when he ask if i need a drink, it was the flight attendant doing there routine so I ask a glass of water. I wasn't sure if the attendant intentionally did not fill up my glass all the way up or because they just want to avoid the spill. But what really locked my attention was the story of the Glass of Water, either to see it half full or half empty. It often flashback me of how I deal my problems, and trials in life in the past. Either to take is as a challenge or to take that as a hint for me to give up.
Just like any other journey we see some intersections, detours, or even yield as we are tested how tough and how patience we are towards to our final destination; Our Dreams. One challenge that we can always relate into it, is our homesickness. There are times that you go to place where you see a family together, they laugh together, smile together and enjoying each others company together. It's like a roadblock on the highway that we must do something about it to get through with it. We have to fight our homesickness and thinking that all these sadness will be rewarded soon.
Flying all the way to the other end was good day off for me, though I know 3 days will not be enough but I know it will be all worth it once it's done. As soon as we are close to land, the pilot reminds us of the local time in Ontario. I arrived around for 4:00 pm with no snow and a bit warm compared to C-town, the weather was just perfect for that day. Good thing I have some good friends to accompany the next day to my next "pit stop".
Though I was a little bit tired of my flight I was so on the go the next day, maybe I was just too excited and paranoid of what will happen next. Like the real race I had a had clue that I have to be at a certain place to find the next one. We drove two hours to get the next clue. As my journey gets intense I could really feel the adrenalin rush all over me. Excited but nervous i walked to the great Niagara falls facing the New York side. A bit chilly weather seems really to be one that is challenging for me to proceed. Cold but determined I told myself that I have to finish this race.
Not too far from where I stand, I can see the famous Rainbow Bridge that connects the two nation, As I'm getting nearer to the gate my heart beats faster and one thing that what is on my mind that time is to pass through gates, present my pass and proceed to the next clue. As instructed I have to walk all the way to the US side from the bridge to get my next clue. I breath deeply for my I know this race is really not a joke, it might even cause me a lifetime if I wont make it right. With temperature dropping and wind gets stronger my endurance was tested if will really make this race.
Arriving at the US side, there I got my next clue. The Immigration officer hand me a paper and instructed me to walk back where I came from. As the climax is kicking in, I walked back carefully as the wind blew fiercely to my face, holding my paper dearly as it might go with the wind. Like facing all the enemies along the way I'm determined to finish this.
As I reached back the Canadian side of the bridge I feel that I'm almost done with this leg. Another clue was given to me telling me to proceed to the building where my final destination is. I felt that my heart beats faster now than I expected. As I'm walking to that building I know that I did all my best, putting all my abilities, giving all my strength, lifting all my worries. I'm ready to hear of whatever words that might affect me with this race.
As I enter the building, I went to the counter and hand my paper and after verifying all of it. The officer stand and told me, with these exact words: Congratulations! You are now a Certified Permanent Resident of Canada.
After hearing those words it numbs me for a second, my mind flashes all things I that I have been through to finish this race, the moment I step in Canada and from the time I became a permanent resident of Canada.
After hearing all the instruction, I leave the building, along with is the smile that is priceless, a heart that keeps me going, and thought that everything you believe and conceive it can be achieved. After all the struggles, trials, roadblocks, detours, intersections, and yields I finally finish the race. A milestone of my life that will surely give a great impact not just to me but the reason why I join this race… my family.
Truly, no matter how many problems you are facing along the way, just have faith, don't lose hope because your own race is already starting.