The University of the Philippines Alumni Association of Alberta (UPAAA) held its Christmas Party on December 15, 2012 at the New Dynasty Buffet and Restaurant in Calgary. In attendance were the members of the Management Committee headed by its president, Ms. Consuelo "Chit" Munar, as well as UPAAA members and friends from Calgary, Lethbridge, Strathmore, [...]
by: Glynn Labial Galla
The year 2013 is the year of water snake, according to the Chinese calendar it shows that people born in this Chinese zodiac has certain luck awaits them.There are also other signs that corresponds and connects with the snake year and there are some signs that they are not compatible with the [...]
There's nothing like that fresh snowy air!  Unfortunately, our winter months last a lot longer than our summer months – and for most of us; we like to enjoy the outdoors.  The thought of being stuck indoors for the next four to six months can be depressing.  So, for the brave few; who like to [...]
Make sure yours and your family's vaccinations are up to date
Q:  My youngest son is graduating from high school this year so we are taking a family trip to Mexico during spring break.  I've heard that we need to get vaccinated before we go.  Is that really necessary?   My kids had all of their vaccinations [...]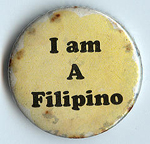 by Ida Beltran-Lucila
There  was  an  article  a  couple  of  months  ago  stating  that  Tagalog  is  the  fastest  growing language  in  Canada,  the  most  common  immigrant  home  language  in  Edmonton,  and  the second most common in Calgary.  This also reflects a broader  immigration pattern showing that the Philippines has been  the  biggest  source country  for  the [...]
by Roberto Ugaddan
NEW YEAR, NEW YOU!
WHAT'S YOUR NEW YEAR'S RESOLUTION
Renvi Bee
My New Years resolution would be… To live a little.. Try things I've never tried before..  Like snowboarding or skydiving or something like that.
Rik P. Gatip
Hehehe gaya ng ibang "heavyweight"….weight loss…sana magawa ko.!happy new year to all!
Allan Torres
I think i just [...]
by:  Tata Gascon-Delos Reyes
Bigger, Better, Bolder…….
The annual Paskong Pinoy Times Christmas Party held at the Crossroads Community Centre last December 23, did not fail its following.  Once again, they made the Filipino-Calgarians proud.  From its humble beginnings in 2008, Pinoy Times' successful 4 years are all attributed to its continued support from loyal advertisers, volunteer [...]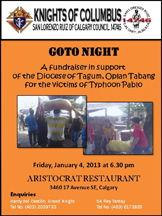 by:  Tata Gascon-Delos Reyes
San Lorenzo Ruiz Council 14767
The All-Filipino Knight of Columbus Council of Calgary spearheaded a fundraising campaign last January 4 at the newly opened Aristocrat Restaurant on 17th Avenue SE. This was for the benefit of the recent Typhoon Pablo that hit once again the mid Visayan and Mindanao region of our Country. [...]
by: Tata Gascon-Delos Reyes
25th Christmas Celebration at Radisson Hotel
The milestone of success for this club hit the marking of 2 decades and 4 years and is still counting. I had the very first time opportunity to attend a Society of leaders and members who mostly hailed from where my Father's roots began. [...]
By Prodie Padios
Open Letter From Canada:
Cong. Manny Pacquiao:
Manny Pacquiao, left, lands a straight left against Juan Manuel Marquez in the first round in their 4th fight held in MGM, Las Vegas on December 8, 2012.
Manny Pacquiao scores a knocked down against Juan Manuel Marquez in round 5 in their 4th fight [...]