Paskong Pinoy Times 2012
by:  Tata Gascon-Delos Reyes
Bigger, Better, Bolder…….
The annual Paskong Pinoy Times Christmas Party held at the Crossroads Community Centre last December 23, did not fail its following.  Once again, they made the Filipino-Calgarians proud.  From its humble beginnings in 2008, Pinoy Times' successful 4 years are all attributed to its continued support from loyal advertisers, volunteer staff, and most of all its readers.
Pinoy Times' Publisher Ms. Connie Kriaski and her entire staff of volunteer writers and photographers gathered as well to collectively welcome the past year's newsmakers in outstanding services.  And for their exemplary characters, Pinoy Times collaborated with Scotiabank, South Pointe Toyota, Robertson College and TravelAero to give distinctions to honor those personalities. The very first OUTSTANDING PINOY Awarding came in existence.  With this new highlight, Pinoy Times proudly awarded four individuals with trophies and gifts to commend them for their exceptional contributions in the field of Business & Community Service, as well as honor them for being a model Senior and Youth. We would like to also thank the other Sponsors who never cease to support the community service Pinoy Times would like to give. Platinum Mitsubishi, iRemit, UMAC, AIMS Human Resources, MC Manila Capital Ltd., Radio Pinoy 94.7 FM, and Ms. Alice Cabagan of GreatLife Financial.
Indeed, Pinoy Times has gone bigger, bolder, and definitely much better.  A simple community paper that brings out the best in all of its followers…may they be the advertisers or just the readers. And in 2013, grabbing a copy of Pinoy Times means sharing your heart with us.  Reading and supporting our local businesses will help us all unite for a better Filipino Community.
Once again we are very honored to present the 2012 Outstanding Pinoys of Calgary.  May you be inspired by them:
CARLOS O. PEREZ
OUTSTANDING PINOY – COMMUNITY SERVICE 2012
Carlos O. Perez is a proud Filipino born and raced in Manila.  A proud son to former public school teachers Ricardo Perez and Elena Orario, "Caloy" as he is known  to everyone, was a product of the Manila Science High School and a Business Administration  degree holder of "Pamantasan ng Lungsod Ng Maynila" who majored in Marketing.  Happily married to Melrose Caballero of Makati City, a CPA herself, the couple was blessed with 4 children: Carmela Joyce 12, Sharon Melissa 10, Patrick Charles 7, and Charlotte Marie, 5.  Both are active members of Couples for Christ and Batangas Association of Calgary.  Caloy also serves as volunteer member of the Sunrise Seniors Club of Calgary.
Caloy as proudly called, is Pinoy Times' 2012 Outstanding Pinoy in Community Service. He works for Mountain View Memorial Gardens as a pre-planning director and is licensed to offer cemetery, cremation, and other funeral products and services on a pre-need basis. He consider  it  a  privilege to be of  help to his "kababayans"  whether they wish to pre-arrange or ask for immediate assistance  in their time of need.   He always feel good and take pride in what he does. He's had the opportunity of helping  many families of whatever nationality or race, most especially the FILIPINOS in and around Calgary.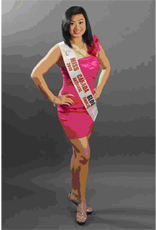 KRISTAL MAE D. RUBIANO
OUTSTANDING PINOY – YOUTH 2012
Kristal Mae D. Rubiano, the only daughter of Arturo and Ester Rubiano of Calgary, brings glory to all Calgarians by recently representing the Province of Alberta at the 2012 Miss Canada Globe Beauty Pageant.  Bagging the Miss Congeniality award, Kristal proved herself as the kind spirited lady who loves to dance and perform. A member of the Kasayahan Cultural Group, and an avid volunteer Parishioner of St. Thomas More Catholic Church, Kristal is a graceful, cheerful, nice, friendly, and honest person.  She is currently studying to become a Medical Office Assistant and an aspiring nurse. As Miss Alberta Globe 2012 she is hoping to pursue her dreams of becoming an International Beauty Queen as well as to go on philanthropy trips to help others around the world.
Truly an amazing persona of beauty brains, this young woman represents the Pinoy Youth all over Calgary and perhaps around the world. She loves her roots and is proud to be a Filipina – Canadian. Pinoy Times is honored to present her this 2012 award.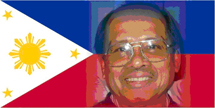 Mr. Ben Isidro
Outstanding Pinoy – Senior  2012
An outstanding member whose leadership contributed to several projects within the Golden Generation Seniors Club, Mr. Isidro truly depicts a man of kindness. His compassion to his fellow Seniors helped many to not feel lonely and isolated.  Living in Canada as a Senior has many challenges, but Mr. Isidro's qualities as a friend and comrade to his likes, changed their views.  He helped in putting up several activities like presenting a movie focusing on Seniors' abuse, creation of Baranggays and Baranggay pageant, physical activities and food sharing.  Members of the Club are looking forward to coming to these activities and connect with friends in order to fill in their emptiness and boredom. We congratulate our 2012 Outstanding Senior with flying colors.

MOST OUTSTANDING BUSINESS 2012
A Company with history and track record, UMAC Express Cargo Inc. in Calgary is a cargo forwarder that had served and helped our fellow Fil-Calgarians share their love and affection to their families back home. Owned & Operated by none other than Mr. Larry Baguisa, a man of few words yet a man of big heart.  His staff in Calgary contributed to the success of UMAC. They not only do business but are very visible in charitable works, which makes them well-loved by their clients. Thus, Pinoy Times takes this opportunity to honor them for a job-well done.