12-year-old Filipina wins Hong Kong Art Contest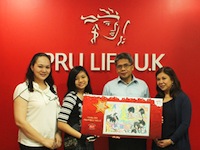 A 12-year-old Filipina student bested 200 entries from six Asian countries to win the top prize at the Happy Holidays Art Challenge 2012 held by Hong Kong-based Prudential Corporation Asia (PCA).
As the grand prize winner, Ysobel Iree Brillantes won a total of P450,000 worth of special educational fund – P50,000 for winning at the local level (Philippines), and P400,000 for winning at the regional level. PCA is the parent company of Pru Life UK.
She beat out 200 entries submitted from Hong Kong, Indonesia, Malaysia, South Korea, Taiwan, and the Philippines.
Ysobel is a grade 6 student at the Philippine Women's College in Davao City.
"This is the first time she won an online contest. When I saw the contest announcement on Facebook, I asked her to join. She created her artwork in less than 30 minutes," said Ysobel's mother Dr. Rhea Brillantes.
Ysobel's winning piece is a manga-inspired color-pencil collage showing Philippine Christmas traditions such as simbang gabi, parol, Noche Buena and Christmas caroling.
"Through the contest, we are able to showcase Filipino kids' talent in arts. Through the contest, we are also able to help secure Ysobel Iree's education, and help her pursue her dream of being an animator in the future," said Pru Life UK Senior Vice President and Chief Marketing Officer Belle S. Tiongco.
PCA Regional Director for Brand and Corporate Affairs Sean Rach said the judges were spoiled for choice to pick the grand prize winner since all the local winning entries were "simply terrific."
"These pieces of children's art will convey our greetings to our customers and friends around the world by becoming part of our holiday e-greeting card," Rach said.
PCA's Happy Holidays Art Challenge 2012, a Facebook eGreeting Card contest, ran from November 19 to December 4 and was open to kids aged 3 to 13.
The other local winners include: Lo Chun Hei, Vinci, age 4 (Hong Kong); Sachiko Aqila Naila Ismail, age 6 (Indonesia); McKenna, age 8 (South Korea); Malaysia: Louis Fong, age 10 (Malaysia); and Chuyu, age 10 (Taiwan).