Philippine Calgarian Social Club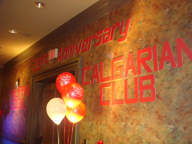 Love is in the Air! (Tom Jones) What a great month February is, combining the Month of Love, Valentine's Day and Family Day all into four short weeks!
Due to a last minute assignment from Pinoy Times I was asked to attend and report on the Philippine Calgarian Social Club's 33rd Annual Valentine's Dinner and Dance. Held at the ever dependable Radisson Hotel on February 9, this was my opportunity to dine and dance with my favorite wife Ludy.
With Calgary's Filipino Community having many groups, associations and clubs, here was a Club we had never heard of or come in contact with in the past. Celebrating 33 years puts them at the top of the list for longevity so my first thoughts were – who are these people, formerly known as Philippine Calgarian Association? Even the fact that they recently changed their name from "Association" to "Social Club" indicates their priorities.
Founded in 1980 as Calgary's first family oriented Filipino Club, these people have had only two goals in mind – to have fun! and to be an ongoing supporter of many Community Agencies and causes. Past recipients of their generosity have included a partnership with the Centre for Newcomers, Filipino Health Fair, Asian Heritage Month, The Heart and Stroke Foundation and Juvenile Diabetes. Most recently the PCSC helped out the Philippine Emergency Response Team, Alberta Cancer Foundation and Calgary Pro-Life.
True to their name, this group of members and their friends uses each event for one common goal – to have fun! The 33rd Annual Valentine's event started much differently than any party we have attended. The Officers, Board of Directors and Members are not seeking attention, control or even a pat on the back like many Associations. Some of those Associations, carrying upwards of 30-40 persons on their Boards, will bore everyone to death by calling their Officers up to the stage one by one telling each other what a fine job and great person they are, feeding their egos. Then we sit through another agonizing episode of naming the 100 or so people who put the event together. NOT the PCSC! They dispense with many of those "self promotion" parts of the program and get right into the chow and then the merriment begins!
So how do I report on the PCSC Valentine's Party? Easy! M/C's Jun Cruz and Ato Abante introduced PCSC President Joe Hidalgo and distinguished guests including popular Calgary MLA Manmeet S. Bhullar. Both Speakers kept their messages short and sweet with The Hon. Mr. Bhullar reminding us how good we have it here in Canada with so much freedom and opportunity in our lives and the future for our families.
A beautiful tradition followed next, this being the 33rd year, the PCSC men presented roses to the first 33 non-member ladies who arrived at the Radisson on this evening. Thanks guys, you took care of one of my Valentine's duties to my wife Ludy! Sorry to say, she was not able to claim any of the many, many donated door and raffle prizes, so I will have to do my own shopping for chocolate…
With dinner and the short formalities taken care of there was only one thing left to do for the attendees, what they came for – PARTY! For the next 6 hours men and women, boys and girls, old and young, brown and white – shook their booties!  Choosing Calgary's #1 DJ, Fred Sayson, shows that this group prefers the best, with I.D.M. DJ Services cranking out the dance tunes non-stop until 2 a.m.! A testament to the PCSC is that, even though this night had competition from a couple of other events, late arrivers started coming in after their other parties. This was one party they didn't want to miss, despite other commitments!
Appropriately, in this Month of Love, here is a group of people who genuinely showed their caring and Love for all others and life itself. The cohesiveness and ability to work towards a common goal is evident in everything they do. Every year they have camping, picnics, fishing trips, Christmas and other parties. Each event is both memorable and a great time.
My choice for Calgary's best Filipino Club, promoting strong families and active Community participation is the Philippine Calgarian Social Club! I thank them and Pinoy Times for introducing us to PCSC and to Beng Cruz for being such a great host!
Steve Tarzwell