W A I T
By: Glynn Galla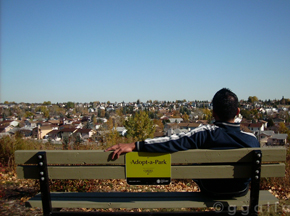 There are moments in our lives that we have to halt and hold for an ample of time. Many of us achieve and become successful because they pause for a while until the fruits of their hard work will come. Some take it slow and patiently waited for the right time to happen…
I often see people in a hurry, either impatiently waiting for their bus or their turn to be served from the long line up. You can also see this in the busy streets, heavy traffic, slow moving cars, and hasty drivers that make the road more congested.
Like in my younger years, I cannot wait to graduate and have a job of my own. I want the time to fast track; I want the days, months and even years to pass just like the wind blows. I just want my schooldays will end sooner. You want the trees that you planted will bear fruit right away. You want the winter will be over so you can enjoy the morning breeze of spring time. And you want to have a vacation again so you can be with your family and friends once more.
All these things we look forward because we want to fulfill our desires, our wishes, and our cravings and to feed our contentment. Life has a process and has balance to maintain, we cannot just jump into finish line without going through a long and challenging way to it. Not all the things in this world can be at hand like an instant, it takes a process, and it takes a moment to fully develop in its own.
There is something in life that we have to wait in order to make it happen. And along this period we tend to forget the value of patience. No matter how you did your best to make it happen, it seems that fate is still not in favor to you. You keep on trying and trying but still no luck, all you have to do is to wait. We can always justify why these things happen, maybe it is not the right time for you get it or more so it is not really meant for you.
During the time of waiting we are given a chance to reflect, to ponder and to justify things if we deserve on what will be the outcome. People have different ways to ease their waiting time; some are giving themselves a time to rest, a time to relax and a time to pray for whatever they are waiting for.
Like in our time, as we are heading to our destination, we want to get there the fastest, we want to be there the quickest but as we know going there, will take us a certain time and we somehow forget that along the way there are things that we need not to wait to have it. Some surprises are in disguise, some important things are just on our side, we need to learn to appreciate, that by waiting, we see things we don't normally seen.
If we are just sensitive enough, we can learn that by waiting we can learn how hard and sweet the life of a student, the assignments, the library moments, memorizing the lines, the final examinations, and the thesis defense that you can just recall and how incredible you made it until your graduation day. That by waiting you will see how the winter slowly vanishes, the ice melts, the sun radiates and the birds are starting to come out. That by waiting we can make friends while waiting for our turn to be served and by waiting we can enjoy the scenic view on the road.
We must not rush things that are made to arrive later in our lives; we must not in a hurry to the things that are destined to come later. We must wait for the right moment, the right time that, that certain goal will be achieve and ripe in its own time. Let's appreciate little things that come along our way. Let's be thankful for of what we have done so far. Let's enjoy the period of waiting, let's cherish the things that we have in the meantime, because no man has ever been to its destination if he haven't WAIT.