Destination Weddings

For so many couples, a dream wedding means sun, sand and a trail of rose petals leading to the sea, topped off with a beautifully decorated canopy for those all important  'I do's . Here are some helpful tips.
DESTINATION WEDDING TRAVEL TIPS
1. ALWAYS BRING A SWEATER or blanket, no matter how tropical the climate; as air conditioning or a breezy night will make you happy that you packed an extra layer.
2.  GOING SOMEWHERE WITH excellent shopping opportunities? Pack light with room in your suitcase to fit the items you're going to purchase along the way.
3.  TRY TO PACK A FEW ESSENTIALS in your carry-on such as toothbrush, deodorant, fresh under clothes and a bathing suit in the event that your luggage is delayed in transport.

4. AVOID TRAVELLING WITH valuable items, particularly jewelry. If you must carry these items on you or in your carry-on and do not pack them in your checked baggage.
5. BE SURE TO WEAR comfortable shoes and clothing on your travel day. You may have to stand in long line-ups or change gates for a connecting flight and you will want to be comfortable.

6. CALL YOUR CLIENT CARD COMPANY to let them know you will be travelling abroad. Many credit card companies have protection plan in place to ensure that travelers are safe from theft and fraud.
7.  Make sure to leave your family and friends the contact information of where you are staying and an itinerary of your vacation or where you are staying and an itinerary of your vacation. It is important that you are reachable in case of an emergency back home.
8.  DON'T FORGET TO BOOK travel insurance. You never know when an unforeseen accident, sudden illness or natural disaster could occur.
9.  TALK TO YOUR TRAVEL AGENT or wedding planner about booking hours. Some locations it's best to just walk around, shop and enjoy the local culture; whereas some are better when you hire an expert to show you the sites, gives you the history, and get you to the front of the line!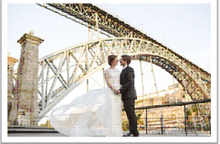 10. Ensure you know what the local currency is wherever you're going. And make sure to bring a variety of smaller bills for gratuities.
11. BRING YOUR PHONE and camera chargers! Taking photos is important to so many travelers. Also, if you're going on an extended trip, you may want to consider an extra memory card.
12. SCAN YOUR PASSPORTS and email them to yourself so you have a digital copy. Can't hurt to have a backed up somewhere.
13.  MAKE SURE YOU ALWAYS pack a small first aid kit with Tylenol, antihistamines, sunscreens, bug spray and aloe vera gel. Allergies, mosquitoes, sunburn can truly ruin your wedding holiday and will look nasty in photos!
14.  ALWAYS MAKE SURE your flight is on schedule and to see if there is a possibility to check in online ahead of time. This can really save time on the line ups at the airport and if you are lucky secure great seats!