Juan Manila
Ano po ba ang nangyari saming buhay?
pati ang Diyos ko'ypinagtatanungan
Iniisip ang nangyari,di man lang namalayan
Ang Ina kong Kalikasan kami pala'y dadaanan.
Kung nagpasintabi lang at kamiy nasabihan
Makikiusap ako ng may kagiliwan
"Alam ko po Kayo, ang may Karapatan"
"Kung pwede po sana'y ipagpaliban na lamang".
Aking sinapit ay mapait na karanasan
dahil sa [...]
COLUMBINE (AQUILEGIA)
I have no idea how columbine got established in my garden but that I've had it for years.  Every year a few more colours would join the array or I would spot seeds in the seed stands and add them to the display.  One of the first perennials to emerge in spring displaying dainty [...]
One week after mistakenly being named first runner up, Calgary's Riza Santos was officially crowned Miss Universe Canada.  An official crowning ceremony was held Sunday at Osteria de Medici and receiving it in her hometown in front of dozens of family and friends made the moment even more special for [...]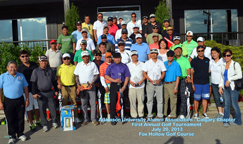 Adamson University Alumni Association Calgary Chapter (AdUAACC) held its inaugural charity golf tournament at Fox Hollow Golf Course last July 20, 2013. Forty eight players had a lot fun and compete for the 3 major trophies. Congratulations to our winners, Dom Tolentino  for Class A, Jun Cabsaba for Class B and Sid Llovia for [...]
Now that our summer has officially arrived (August-September in Alberta) the roads and highways are getting busier. We read in the big papers about the accidents and carnage on the streets but what scares me is the close calls, some of which the drivers don't even recognize! I only hope that those with very little [...]
by Roberto Ugaddan
WHAT IS THE MOST EXCITING PART OF STAMPEDE FOR YOU AND YOUR FAMILY THIS YEAR?
FLORA MALIG
What made this year's Stampede wonderfully different was that despite the devastating flood that happened merely a few days prior, the show went on a high-spirited note. For instance, they incorporated the message of the YYC [...]
One sunny morning, a commotion is somewhat happening at Country Hills Toyota, a long line up of people waiting for their turns to be given free Stampede Breakfast, adults and kids are being given balloons, loud western music being played at the ground, excited people participating on different games, for all we know Country Hills [...]
For this month's issue, I won't be giving you travel tips but instead, I'll give you the latest news in the aviation industry.
New York commends airports for accurate luggage scales
New York City inspected all luggage scales at LaGuardia and John F. Kennedy airports, and found 96% of the scales to be accurate. The city's Department [...]
How can you stay healthy on your trip?
The best way to stay healthy on your trip is to plan before you go. If you are planning to travel to another country, see a doctor at least 6 weeks before you leave so you will have time for vaccines (immunizations) that you may need to get [...]
Less than two weeks before the 2013 Stampede, Alberta experienced the worst flooding in the province's history. The downpour, which began on June 19 and lasted for a few days, was so heavy that areas along the Bow and Elbow rivers – 26 communities altogether, including the downtown core – had to be evacuated.
Everyone [...]