Travelaero
For this month's issue, I won't be giving you travel tips but instead, I'll give you the latest news in the aviation industry.
New York commends airports for accurate luggage scales
New York City inspected all luggage scales at LaGuardia and John F. Kennedy airports, and found 96% of the scales to be accurate. The city's Department of Consumer Affairs conducted the investigation over a three-day period, and commended the airports for their high compliance rate.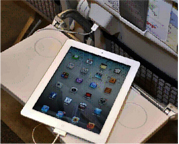 Alaska Airlines to install power plugs at Boeing 737 seats
Alaska Airlines announced plans to install power plugs on every seat aboard several versions of its Boeing 737 aircraft. The carrier also is deciding on a vendor to provide streaming in-flight movies, television shows and other content. "We are considering an enhanced in-flight entertainment system that will allow customers to watch movies, television shows and other programming streamed to any Wi-Fi-enabled device," said Alaska Airlines spokeswoman Marianne Lindsey.
Satellites are the future for the in-flight connectivity
Some executives say that satellite connectivity will lower the cost of in-flight Internet service. Inmarsat has teamed up with Honeywell to bring its signal to Honeywell's equipment next year, while Intelsat should put its first Epic satellite in space in 2015. "Air-to-ground was a unique situation that worked just right in the U.S. for us to get the early lead," said Gogo CEO Michael Small. "But in the long run, it will be predominantly a satellite solution."
California Airport requests change in take-off route
City officials are requesting a change in the takeoff pattern at John Wayne airport in Newport Beach, Calif., to reduce noise. The city would like aircraft to perform a "S-curve" takeoff route, which pilots say is difficult to perform. The Federal Aviation Administration is considering the request.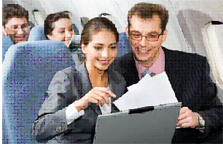 Airlines offer business travellers more choice, better flight
Business travelers like to purchase ancillary services that improve their travel experience near the start of their trip, according to a survey by FlightView. "Business travelers told us they want to buy these products," said FlightView CEO Mike Benjamin during a Global Business Travel Association convention. Fifty-two percent of business travelers said they would consider buying optional service amenities on their mobile phone before boarding.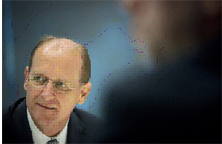 Virgin Atlantic CEO: US customs waits tremendously frustrating
Virgin Atlantic CEO Craig Kreeger called custom wait times at New York-area airports "embarrassing" and "tremendously frustrating" for passengers arriving into the United States. He added that it is "a real shame" that one of "the most important nations" doesn't recognize the vital role that travel plays in the global economy, comparing the U.S. to other countries that provide plenty of customs staffing and resources. JFK Terminal 4 was the worst wait for U.S.-bound air travelers with a 93.8 minute average peak in May, according to a Global Gateway Alliance study. Newark Airport was the ninth-longest wait, coming in at 51.3 minutes.
Self-service will be the next trend for in-flight shopping, expert says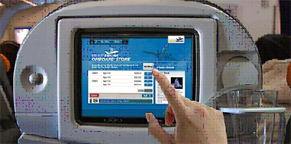 Brett Proud, CEO of in-flight transaction specialist GuestLogix, predicts travelers will be able to purchase duty-free items through self-service in the future. "The trend is definitely moving towards passenger self-service onboard, be it buying through a seatback screen or via the passenger's own device," he said.
AA-US Airways merger gets green light from EU
European officials approved a proposed merger between American Airlines and US Airways. The European Commission approved the merger on Monday, after the airlines agreed to release some operating rights at London's Heathrow Airport. "We are very pleased that the EU has approved the merger between American Airlines and US Airways," AMR Chairman and Chief Executive Tom Horton said. "This represents one of the final milestones on our path to becoming the new American Airlines."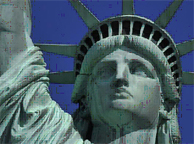 Airport respond to State Departments travel Alert
There will be increased security at New York City landmarks, extra scrutiny of locations throughout San Francisco, and more patrols of Boston's Logan Airport in the wake of a terror threat that has led the State Department to shutter embassies and issue a global travel alert through the end of August.
Editorial: Fix long custom lines at US airports for passengers
An editorial by the Fort Worth Star-Telegram said fixing long customs lines for passengers and airports should be a priority. Dallas/Fort Worth Airport has the longest average wait of major U.S. airports and the second-longest waiting period of 69 minutes at peak times. The editorial also points out that navigating through customs can take much longer. Star-Telegram reporter Andrea Ahles cited a day in July when arriving travelers endured waits lasting longer than three hours. "The last thing an airline passenger wants to face after completing an eight-to-12-hour flight from overseas is spending another several hours waiting to clear customs at the airport," the editorial said.
Terror alert spurs extra screening of cargo flown into US
All in-bound cargo on commercial flights from Europe, the Middle East and Africa — and quite possibly other areas of the world — is being screened twice, as a result of the recent terror threats that have closed U.S. embassies and consulates in the Middle East and Africa, according to a cargo industry official.
The Department of Homeland Security late last week ordered airlines to increase the inspection of cargo at the last point of departure for the United States, said Brandon Fried, the executive director of Airforwarders Association, a trade group.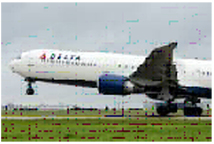 Delta takes spot as the world's largest airline in July.
Gaming could be next stop for in-flight entertainment
Some airlines are handing out iPads or other tablets to passengers instead of installing seatback screens for in-flight entertainment. Online gaming could be the next entertainment offering for airline passengers, along with movies and television shows. "You can have a chat room where people can come together and agree to play a game, then you simply log on with your seat number," said Olivier Krüger, senior vice president at Lufthansa Systems.
Airlines focus on Los Angeles International Airport
Delta Air Lines announced plans for an hourly shuttle between Los Angeles and San Francisco starting Aug. 1. United Airlines and American Airlines both have around 19% of traffic at the Los Angeles International Airport. "[LAX] has always been kind of a Boston; no one has ever really owned all of it," Delta spokesman Anthony Black said.
For news updates and complete details please follow me on twitter-@travelaero.