Health Benefits of Ginger
Are you aware of the health benefits of ginger? Ginger is a root crop that is abundant in Asia. This is usually used as an ingredient for certain dishes, and it also makes a good tea. In fact, "salabat" is a Filipino tea made from ginger extracts. You might have heard about the common health benefits of ginger but below are the best ones. You'll see how advantageous it is to include ginger in your diets.
Treatment for ovarian cancer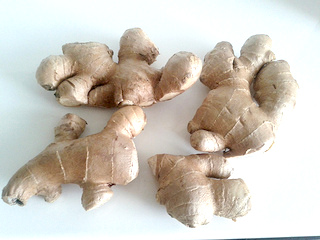 photo credit: RobotSkirts
One of the most popular health benefits of ginger is its treatment for ovarian cancer. There are actually several studies done on this, but the most prominent one is the one made by the University of Michigan. According to this study, ginger promotes the death of cancer cells, giving women who have early ovarian cancer a good chance to survive the sickness.
Prevents colon cancer
Colon cancer, which haunts most of us because of our diets, can also be prevented by including ginger in our regular meals. This study was done by the University of Minnesota, and in this study, it was found that colorectal cancer cells grow slower when ginger is included in one's diet.
Morning and motion sickness remedy
This is probably one of the age-old health benefits of ginger. Even our forefathers knew about this. Ginger is a good remedy for nausea. You can take it if you're feeling motion sickness, and if you're pregnant, it's a very good remedy for morning sickness.
Pain and inflammation reduction
If you're feeling any pain or inflammation in your body, you will also love one of these health benefits of ginger. Ginger, when drunk as tea could help to lessen pain and inflammation. It's good for migraines as well as swelling caused by injuries or allergies. It's also good to take ginger tea if you are experiencing menstrual cramps.
Relief for heartburn
Heartburn can be a real challenge. Some people take medicines for heartburn relief. If you have ginger in your kitchen shelf though, particularly the tea variant, it's a good remedy or at least pain reliever for heartburn.
Cold or flu remedy
While there's no sure remedy for the common cold, drinking warm ginger tea can certainly relieve your sore throat and clogged nose. It's a common "cure" for flu and/or colds. You should have this in your shelf all the time if you want to beat flu and colds the natural way.
Prevention of kidney damage
According to certain studies, those who regularly drink ginger juice or tea are also less prone to kidney damage. These studies have been focused particularly on kidney damage caused by diabetes. Of course, the studies were conducted on diabetic rats, but it's still a promising health benefit especially for those who fear complications of diabetes.
Easy Chicken Tinola Recipe
Ingredients:
1 lb. boneless chicken breast, chopped
5 cups chicken broth or stock
3 pieces chayote, peeled, seed removed, and sliced into wedges
2 tablespoons ginger, sliced into thin strips
2 cloves garlic, minced
1 medium onion, sliced
2 cups Spinach
1/2 teaspoon ground black pepper
Fish sauce to taste
2 tablespoons cooking oil
Cooking Procedure:
Heat the cooking oil in a cooking pot.

When the oil becomes hot, sauté the ginger, garlic and onion

Once the onion is soft, put-in the chopped chicken. Cook for 3 minutes.

Pour-in the chicken broth. Let boil and then simmer for 20 to 25 minutes.

Add the chayote wedges. Cook for 5 minutes.

Put-in the hot pepper and/or malunggay leaves.

Add the ground black pepper and fish sauce. Stir.

Transfer to a serving bowl.
Serve. Share and enjoy!

Hot and Sour Soup
Hot and Sour Soup is an oriental soup dish composed of meat and lots of vegetables. Chilies or chili sauce is responsible in making this soup dish spicy, while rice vinegar is the main souring agent.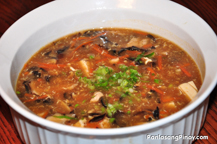 Hot and Sour Soup
Ingredients:
1/2 lb pork, thinly sliced
1 1/2 cups Shiitake mushrooms, sliced
1/2 cup dried wood ear, soaked in water
2 thumbs ginger, sliced
4 pieces firm tofu, cubed
1/2 cup carrots, julienned
1/2 cup bamboo shoots, sliced
7 cups chicken broth
1/2 cup rice vinegar
3 tablespoons soy sauce
2 teaspoons chili sauce
3 1/2 tablespoons cornstarch, diluted in 4 tablespoons water
1 piece egg
1/4 cup spring onions, finely chopped
Cooking procedure:
Heat a cooking pot then pour-in chicken broth and let boil.

Put-in Shiitake mushroom, wood ear, and ginger then stir. Simmer for 10 minutes.

Remove the ginger, put-in pork, tofu, carrots, and bamboo shoots. Simmer until pork is tender (about 20 minutes).

Add soy sauce, rice vinegar, and hot sauce then stir.

Stir-in cornstarch diluted in water and egg. Stir thoroughly.

Turn off heat, transfer to a serving bowl, and garnish with spring onions.

Serve. Share and enjoy!
Stir Fried Ginger Beef Recipe
Ingredients
2 lbs beef tenderloin, sliced
5 teaspoons rice vinegar
1/2 cup soy sauce
2 tablespoons honey
2 tablespoons minced ginger
1/2 teaspoon cayenne pepper
1 teaspoon ground cumin
4 teaspoons cornstarch diluted in 3 tablespoons cold water
1/2 cup chopped scallions
2 teaspoons minced garlic
2 teaspoons sesame oil
Salt and pepper to taste
3 tablespoons cooking oil
Cooking Procedure
Make the marinade by combining vinegar, soy sauce, 1 tablespoon ginger, honey, and cayenne pepper in a mixing bowl. Mix well.

Put the beef slices in the bowl with marinade. Make sure that the beef are coated properly. Cover the bowl with a cling wrap. Refrigerate for at least an hour.

Remove the beef from the fridge and wait until it reaches room temperature.

Heat the oil in a large frying pan or wok.

Once the oil is hot, gradually put-in the beef slices one batch at a time depending on the size of your wok. Stir fry for 2 minutes.

Remove the beef and set aside.

Using the remaining cooking oil in the pan, saute the garlic, remaining ginger, and scallions for 40 to 60 seconds.

Add the beef back in the wok and pour-in the sesame oil. Add cumin, salt and pepper.Stir.

Pour-in the cornstarch diluted in water. continue to stir fry for 1 minute.

Transfer to a serving plate. Serve.

Share and enjoy!