Pinoy Times Concert Scenes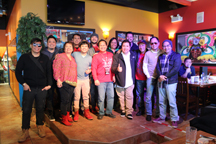 Wency Cornejo and True Faith Band Takes  Calgary by Storm
All roads leads to Century Casino   last February 15 for the post Valentine concert and the   first leg of the Wency Cornejo and True Faith Canadian Tour   Concert.  Calgary is the first stop for the group   who is   on  a  5 city tour that saw them also perform for their Fil- Canadian audience in Edmonton, Vancouver, Toronto and Montreal. Fans got the chance to   relive the hits of  these  90's most  popular band and artist.
Performing in front of a full house Century Casino crowd,  Wency serenaded  the audience  with his signature OPM hits" Magpakailanman"," Habang May Buhay"and " Next In line" an original cut from his former  group  After Image.  While   Medwin  Marfil the flamboyant lead singer   of  True Faith band  rocked the house with their certified  hit songs such as " Wag Na Lang Kaya" "Perfect" and" Alaala".
Calgary's  2014  first concert of the year  is an initial venture  of  Pinoy Times Entertainment   headed by Ms, Connie Kriaski  and is  considerably a  big success based on the huge  crowd turn out .  " Filipinos are romantic by nature and what a better  way to celebrate Valentines Day than  to watch a good  concert show with your love ones"  as  quoted Ms. Kriaski. This is a valentine gift  for myself.
An impressive and equally exciting  line up of front acts  performed   that night among them Deuce Wild Band, Cultura Band and solo performers Anne Marie and Laurie Callao. Wency Cornejo started  the show with a medley of OPM hits  dedicated  on nationalism and  Filipinos abroad. He even wore a Barong Tagalog at one point of the show. He sang  all of his popular  hit songs some of which was made into movies and  teleserye theme songs.
True Faith's opening number is their upbeat hit song Alaala which got most of the audience on their feet  and through most part of the show dancing to the band's wide repertoire of OPM and  new wave classics. Their finale number  together with Wency Cornejo back on stage of the classic Hotdog's disco hit "Manila" and Put3ska's  "Manila Girl" put the crowd on a frenzy.
It was  a great show the group put up that night notwithstanding that  Wency and Med are both suffering from colds and  flu   mainly due to sudden  exposure   from the extremely  cold Calgary weather.  As the saying goes the show must go on and what an awesome show indeed it was.
Congratulations  to the  production staff  and  volunteers of Pinoy Times Entertainment for a successful event. Watch out for their  next concert the Charice World Tour live in Calgary on March 28 at the same venue. Get your tickets now.