Extra Ordinary Islands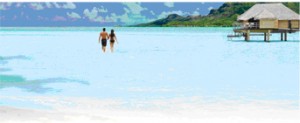 TAHITI
Tahiti offers an exciting combination of urban and island life. Moorea charms with her emerald mountains and sandy shores. Bora Bora captivates with her gentle  lagoons of an unimaginable palette of blues and turquoises. Huahine, Raiatea and Taha'a blend nature and history, featuring lush vanilla plantations and ancient  maraes.Rangiroa and Tuamotu beckon divers  with their  untouched coral reefs and schools of marine life. The remote Marquesas enchant adventures with rugged  cliffs and soaring mountain peaks.
FIJI
The friendliest island in the world offers 333 exotic  islands with some of the best  coral sites in the world. Fijians welcome you with a cheerful 'bula.' Smiling is second nature Fijians  and their warmth and friendliness  are infectious. You'll find hotels to fit every budget, from family-friendly resorts to exclusive ,boutique private-island resorts. The magical islands that make up Fiji are ideal for honeymooners or for  people looking for  their next tropical vacation.
MALDIVES
Experience the beauty, serenity, romance and exclusivity of the exotic Maldives— a thousand pristine islets.  Influenced by  the many  travelers  who  sailed the Maldivian shores, the ever-evolving  culture and people are welcoming and warm. As in ancient times, Maldives is still a tranquil paradise, complete with  world-class hotels and the highest standards of sophistication.

NEW ZEALAND
No place on earth is quite like New Zealand.  It is a land where two different cultures, Polynesian  Maori and British  colonial, flourish side by side. The diversity of landscapes-from lush forests to extreme volcanic terrain, tropical beaches to majestic  glaciers-makes New Zealand an extraordinary experience.
AUSTRALIA
The world's biggest and most unique island has a landscape that varies from endless blue-sky horizons to dense tropical rainforest  to miles of deserted beaches. It is the sixth largest country in the world and home of the largest coral reef and the largest  monolith, plus a plethora of unique plants and animals. It is the sheer vastness that gives Australia and diverse population  much of its character.
We are committed to making your vacations just what you want it to be, from the moment you make the reservation until you return home. We take a very personal approach  to customized trip planning with devoted attention to detail. Whether you are planning an unforgettable honeymoon, a special romantic getaway or a fun family  experience, we will tailor a package  to best meet your needs.