FOR IMMEDIATE RELEASE
Ottawa, June 1, 2015 – The Honourable Tobias C. Enverga Jr., Ontario Senator, joined the Honourable Ed Fast, Minister of International Trade, for an official trade mission to the Republic of the Philippines, May 24-28, 2015, to meet with business leaders and government officials to build upon the important commercial links that exist between [...]

June 15, 2015
Ottawa – Devinder Shory, Member of Parliament for Calgary Northeast has been recognized by Universities Canada for his role in supporting Universities Canada in advancing higher education, research, and innovation for the benefit of all Canadians.
"I have always been a strong believer in the importance of education to further the success [...]
Date: June 12, 2015
STATEMENT BY THE PRIME MINISTER OF CANADA ON PHILIPPINE INDEPENDENCE DAY
Prime Minister Stephen Harper today issued the following statement on Philippine Independence Day:
"Today, I extend my warmest wishes to all those in Canada and around the world who are celebrating the 117th anniversary of the independence of the Philippines. "Since independence, the [...]
Are your aspirations falling apart and your toils slipping away to nothing? Or are you in the midst of a painful, dark time desperately seeking for answers of hope.  In facing life's burdens, it is humbling and wise to remember God's promise to those who put their trust in the Lord, as He says:
"You will [...]
Types of Nutrients in Sweet Peas
Sweet peas provide an impressive inventory of nutrients. Not only are they fibrous, they contain a number of vitamins. Among these are vitamins B, C and K. Their mineral profile includes high amounts of manganese, copper, phosphorus, potassium, iron and magnesium. Traces of protein and choline have also been found [...]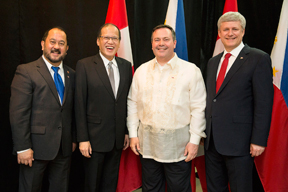 Ottawa, May 12, 2015 – His Excellency Benigno S. Aquino III, President of the Republic of the Philippines, concluded his official state visit to Canada last week.  The successful visit was marked by both countries' commitment to increase trade, to continue cooperation in security and development, and to nurture the close people-to-people ties, especially through the [...]
"Daniel Padilla shows genuine talent in Crazy Beautiful You; Kathryn Bernardo appears ready for more mature roles. The chemistry between the two central characters threads on familiar waters, and is mostly carried by Padilla's powerful screen presence and natural charm.  Padilla assumes the mantle well, showing off a kind of luster similar to his uncle Robin [...]
You can limit the impact asthma has on your child's life by learning about asthma and learning how you can help your child follow his or her asthma action plan.
Learn about asthma and see your doctor
Educate yourself and your child about asthma. Asthma education programs provided by certified asthma educators (CAEs) are available in [...]
Patronized Your Own by:  Tigs Tiglao
The present rise of business interest in our community is laudable. This was our dream when there were just a few of us around. What we are seeing today indeed bequeaths a happy feeling. We were disheartened for quite sometime for failing to keep pace with the cultural community's march [...]