WHAT THE CRITICS ARE SAYING ABOUT "Crazy Beautiful You"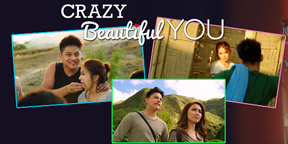 "Daniel Padilla shows genuine talent in Crazy Beautiful You; Kathryn Bernardo appears ready for more mature roles. The chemistry between the two central characters threads on familiar waters, and is mostly carried by Padilla's powerful screen presence and natural charm.  Padilla assumes the mantle well, showing off a kind of luster similar to his uncle Robin Padilla in his prime. He wears the rugged, probinsiyano aura far better than most actors of his generation." - Duane Lucas Pascua, Philippine Entertainment Portal, pep.ph
***
"The film's an indubitable charmer.Cruz (director Mae Cruz-Alviar), who has been churning out rom-com after rom-com without any consistency in quality, finally chalks up something that is entertaining through and through. Cruz and her team of writers have no ambitions in revising the formula. In fact, Crazy Beautiful You works because it doesn't stray too far from what has been tried and tested, minimizing the risks of stumbling over botched experimentation. Given this, the subtle beauty of the film is in the details wherein the creative team has sprinkled some snippets of reality, but still within the scope of what's generally palatable to the movie-going public." - Oggs Cruz, Rappler.com
***
"The onscreen chemistry between Daniel and Kathryn works really well with the movie's storyline and characters.  Crazy Beautiful You brings back emotions that most of us 'older' people have forgotten.  Aside from just being your ordinary teen romantic flick, the touch of social responsibility makes it more than a commercial film.  Kudos to Direk Mae Cruz-Alviar and Star Cinema!" - Michael Nitro, Asian Journal, asianjournal.com
***
"Kathryn's refreshing presence and DJ's winking portrayal (and that toothsome grin, for his swooning fans) aren't the film's only attractions: It's easy to get invested in the love story they breathe life into, because the breathtaking views and stunning landscapes in the backdrop are conducive to their characters' disarming romance.
"The movie gets off to a shaky start, but finds its footing soon enough. Moreover, its 'simple' but intimate stories about relationships lend dramatic weight to and complement the production's deliberate rom-com fizz.
"While some side stories are rushed for the film's requisite Happily Ever After finale, they're nevertheless staged with conviction and credible dramatic relish as the movie drives its inspiring message about second chances right into viewers' hearts!" - Rito P. Asilo, Inquirer.net
SCREENING IN CANADA ON MARCH 6!
Mississauga, ON
Cinestarz Cinemas
377 Burnamthorpe Road E.,
Mississauga, ON L5A 3Y1
Montreal, QC
Cineplex Odeon Forum
2313 St. Catherine St. West Suite 101
Montréal, QC, H3H 1N2
(514) 904-1277
Ottawa, ON
Cineplex South Keys
2214 Bank St.,
Ottawa ON K1V 1J6
(613) 736-6740
Scarborough, ON
Cineplex Cinemas Scarborough
300 Borough Dr.
Scarborough, ON M1P4P5
(416) 290-5217
Toronto, ON
Famous Players Canada Square Cinemas
2190 Yonge St.
Toronto, ON M4S 2C6
(416) 646-0444
Winnipeg, MB
Cineplex Northgate Winnipeg
1399 McPhillips Street,
Winnipeg, MB R2V 3C4
(204) 334-6234
Calgary, AB
Sunridge Spectrum Cineplex
2555-32nd St N.E.
Calgary, AB T1Y 7J6
(403) 717-1200
Edmonton, AB
Cineplex Movies 12 Edmonton
5074 130th Ave.
Edmonton,  AB T5A5A9
(708) 472-9779
Surrey, BC
Landmark Studio 12 – Guildford
15051 101 Avenue
Surrey , BC V3R7Z1
(604) 581-1716
North Vancouver, BC
Landmark Cinemas 6 Esplanade
200 West Esplanade
North Vancouver BC V7M 1A4
(604) 983-2762
Vancouver, BC
Cineplex Odeon International Village Cinemas
88 West Pender Street,
Vancouver, BC V6B 6N9
(604) 806-0799
Saskatoon, SK
Cineplex Odeon Centre Mall Cinemas
3510-8th Street
Saskatoon, SK S7H 0W6
(306) 955-1938
Regina, SK
Cineplex Odeon Southland Mall
3025 Gordon Road
Regina, SK S4S 6H7
(306) 585-3383
Halifax, NS
Cineplex Bayer's Lake
190 Chain Lake Drive
Halifax, NS, B3S 1C5
(902) 876-4800