Kuya Bong's Kusina
Health Benefits of Cinnamon
source: www.panlasangpinoy.com
The aroma that cinnamon adds to any dish will certainly entice anyone. Aside from the luring scent, this also has an exquisite added flavor that makes the dish or baked product even more delicious. Do you know that cinnamon is more than just another spice that enhances recipes? Are you aware of the health benefits of cinnamon?
For centuries, cinnamon has always been recognized as a powerful ingredient which could greatly contribute to excellent health. It is actually recognized as 'Ayurvedic' in Indian medicine because of its amazing help when it comes to improving blood circulation. On the other hand, this is also recognized in Chinese medicine as an effective cure for colds because of the warming effect that it could bring to the body. In the Roman and Greek cultures, this ingredient is known to resolve problems within the digestive system. Fascinatingly, the health benefits of cinnamon do not end there just yet. Here are the advantages that it could bring.
Regulation of the Blood Sugar Levels – There have been studies which showed results that among the health benefits of cinnamon is that it helps out in preventing blood sugar level to spike up. In fact, even the American Diabetes Association recommends daily intake of cinnamon because people who regularly have their dose of cinnamon are able to control their blood sugar far better than those who take medicines for diabetes. This ingredient is helpful for people who have type 2 diabetes and hypoglycemia.
Anti-microbial and anti-fungal properties – The main reason why it is recommended for intestinal and stomach problems is because of its ability to fight off fungus, bacteria and parasites. The oil and extract of cinnamon can also alleviate vaginal yeast infection and oral yeast infection.
Improve Circulatory System – This is excellent for people who experience hypertension too. The cinnaldehyde which is an active ingredient in cinnamon avoids blood clotting that causes blockage of arteries, stroke and other cardiovascular problems.
Anti-inflammatory properties - Since this spice has anti-inflammatory effect, keeping the heart healthy is another one of the health benefits of cinnamon. Aside from that, it is recommended for people who have arthritis because this can reduce the swelling and pain.
Cancer prevention – This spice may not cure cancer but it helps out in staying away from this illness. A research conducted by the U.S. Department of Agriculture in Maryland showed that it hinders the growth and progression of leukemia and lymphoma cancer cells.
Increase Brain Functions - Eating and even just smelling cinnamon can boost the performance of the bran. Because of this effect, researchers have been studying the possible benefit of cinnamon for Alzheimer's disease and other degenerative neurological diseases.
Diuretic Effects - Cinnamon makes it easier to urinate which is also essential in enabling the body to get rid of toxins more efficiently. Aside from that, it also promotes increase secretion of breast milk for women.
This spice can be ingested in different ways so that you can also experience the health benefits of cinnamon. You can add it to your drink for more flavor and aroma. A pinch of this spice on your dessert or bread would be excellent too. There are also cinnamon sticks that you could enjoy.
Pork Asado Recipe
Pork Asado or Asadong Baboy is a sweet pork dish that was introduced by the Chinese. Unlike Chicken Asado, which is its name counterpart, Pork Asado has contrasting ingredients and method of preparation.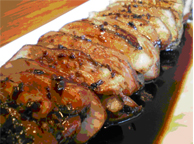 This is one of the dishes wherein slabs of meat are preferred unsliced when cooked – just like the Lechon kawali. You can't go wrong in preparing this tasty dish since the procedure is simple; all you need to do is marinade the meat in a mixture of spices and seasonings and boil it until tender. If you like easy to prepare oriental tasting dishes then this one is for you.
If you'll examine the ingredients closely, you'll notice an ingredient called five spice powder. It is a powdered spice composed of star anise, cloves, cinnamon, Sichuan pepper, and ground fennel seeds. This is an important ingredient of this dish which gives it distinction over Humba and Pork Hamonado.
Try this Pork Asado recipe and let me know what you think.
Ingredients:
1 1/2 lbs pork
1  teaspoon five spice powder
1/2 cup soy sauce
1/3 cup brown sugar
1 teaspoon garlic, minced
2 tablespoons cooking rice wine
Cooking procedure:
1. Combine soy sauce, five spice powder, garlic, cooking rice wine, and salt then mix well.
2. Marinade the pork in the combined mixture for at least 1 hour.
3. Heat a cooking pot then put-in the pork along with the marinade and water then let boil.
4. Add brown sugar and stir to distribute evenly.
5. Simmer for about 40 minutes flipping the meat after 20 minutes or so to tenderize the other side.
6. Turn off the heat and remove the meat from the cooking pot.
7. Allow the meat to rest for about 10 minutes then slice.
8. Transfer to a serving plate and top with the thick sauce then serve.
9. Share and enjoy!
Quickie Cinnamon Rolls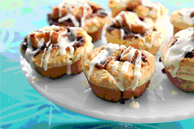 Ingredients
2 cup flour
2 tbsp granulated sugar
4 tsp baking powder
1 tsp salt
¼ cup cold butter
1 cup milk
Cinnamon topping:
⅓ cup butter, softened
1 cup packed brown sugar
1 tbsp cinamon
⅓ cup chopped raisins
Instructions
Whisk together the dry ingredients. Cut in the butter until it's the size of small peas. Mix in the milk until the dough forms a ball.
Turn out the dough onto light floured surface and roll into 12 x 8 inch rectangle
Combine the first three topping ingredients and spread them onto the dough.
Sprinkle the raisins over the top and then roll up the dough jelly-roll style.
Cut into 12 even pieces.
Place into muffin cups and bake at 400 until the rolls are browned and the cinnamon mixture is bubbling.
Cool slightly, then remove from the tins.