Social Media, it's implication to Philippine Elections
By Glynn Galla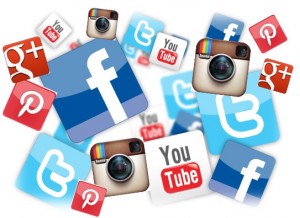 Facebook, twitter, snapchat, microblogging website are just few of the sources that we always check what is going on in Philippines nowadays.
A lot of us, especially we Filipinos abroad, depend on this social platform to get updates not just to our love ones, but also to take part in the political arena in the upcoming National Election in the Philippines. It is being quote that this coming elections is the most talk about election from recent years. Many have shown their interest as the social media/internet took a huge role in influencing our decision and the way we look at the future of our beloved Philippines.
I remember when social media was not big 10 years ago; all of us depend on radio, broadsheet and television for any information that concerns the country. Being a migrant worker we always look forward on what is going on in the country especially when it comes to Presidential Election in the Philippines. As an observer it was so different like years ago how the political landscape was shape as it is now. Before, whatever was broadcast on Television we tend to conclude that, it is the right and just reporting and we don't question it.
Social Media play a huge impact on how we can really say that what was being broadcast on Television may seems not totally depicts what was actually happening. The right to information is reaching a big number now, more and more people has access to information which they can check right at their fingertips. The convenience of having phones that allows you to take a video and pictures are becoming popular and a good source of unbiased reporting; they can easily upload it to any social media platform that can reach Filipinos all over the world.
The upcoming election will be one of the most remembered events in the Philippine history. The people of the Philippines has been longing for a true change, a true hope and a true unselfish leader that could lead the country to a brighter tomorrow, we all know how the dirty strategy are so rampant as the election is getting closer, before the common tao has no tools, has no capability of reporting this incident right away and if given a chance to reveal the anomalies its already been covered up due to many factors. But now in this era, things have changed, big broadcasting companies have now found their match, in delivering a true and just reporting. Now people have the option on where they can get the latest news with no malice or personal intentions, it's available as it is.
If we can remember twenty years ago, what we believed in was, what was being broadcast and eventually it was written in our history. But how about that truth that it actually happened but it was not broadcast? Having the access to media a power that can influence the minds and decision of each Filipino, thanks to the new technology that whenever you want, whatever you want to know about real happenings back home is now back up by social media. It is being said that, it is new Broadcasting System, unlike broadsheets, television they can report what they only want to report and what they want people to know.
Alternative options are always better than once we used to have; it gives us more power to weigh things, it gives us self-entitlement that nobody can dictate what we want to vote, nobody can influence us because have now the access of both platforms. At the end of the day no matter how high tech, we gathered information now, it's still us who are going to decide on what is right and just for the Philippines. My wish for you is to vote who you think can bring back the glory days of our beloved country.