Once Upon a Filipino Food Truck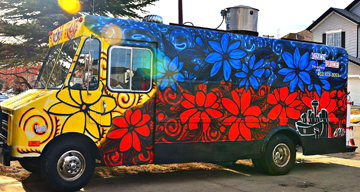 Pinoy Pride is the name given to this food truck. It is the first and only Filipino food truck in Calgary, Alberta. Although, it is named as such this food truck is truly a product of humility and hard work by a husband and wife team Pol and Daisy and their family and friends who supported them along the way. Daisy came as a TFW about 10 years ago and her family followed afterwards. The idea of starting a food business has always been in our minds since we became residents of Canada we have been searching and praying for the right business and we saw the opportunity in the growing mobile restaurant business. We went to check if there are any Filipino food trucks in Calgary and there was none! This made us so excited. We finally found the right time and right food business to call ours. Although, we are not chefs or cooks by formal education we are genuinely Filipino food lovers. We learned how to cook by firsthand experience from our parents and relatives from the Philippines and I call it direct transfer of culture and passion. We also belong to families that run their own family businesses back home.
Managing this food truck especially at a very early stage has been both challenging and fulfilling. And by God's grace and a lot of great supporters it took off the ground. Our ultimate goal is to bring and share the best of Filipino culture through our love of Pinoy food to our kababayans and of course to our Canadian brothers. We also painted our truck to symbolize our Philippine flag and as colorful, happy and vibrant like us Pinoys and the flower art is actually Sampaguita our national flower, simple, small but beautiful flower with a very powerful and irresistible scent that will captivate you the way we want to captivate you with our cooking.
So far, we are very busy and excited serving our food to our customers almost every day and and we are receiving great feedbacks and lots of happy returning costumers from all nations not just Filipinos and this makes us even more humbled.
I hope our fellow kababayans in Calgary can say that this is their Pinoy Pride Food Truck and to share the Filipino joy and culture that we are proud of to others. and I hope that you will support our very own Pinoy businesses in Calgary and in Canada. God bless! Mabuhay!
Come check us at the following events and be a part of our fun and exciting Pinoy Pride days with great tasting Filipino food and new friends. Pwede pong tumambay sa harap ng truck at kumain at mag selfie din pag my time! Salamat po!
Calgary Night Market 2016
June 3&24,July 8 & 29,Aug 5&26,Sept 9 at Central Memorial Park downtown Calgary 4:00-10:00 PM
June 11-12 at Edmonton Filipino Fiesta 2016
June 25 at 2nd Annual Outdoor Market at EAU CLAIRE 12:00-9:30 PM
On our regular days Pinoy Pride is serving you favorite Pinoy food at Chinook C-train station
And More! Please like us on facebook Pinoy Pride Food Truck: https://www.facebook.com/Pinoy-Pride-Food-Truck-1662227974061717/
Follow us on Twitter: @pinoyprideft
PINOY PRIDE FOOD TRUCK
"Championing The Filipino Cuisine! '
403 471 5414