Kuya Bong's Kusina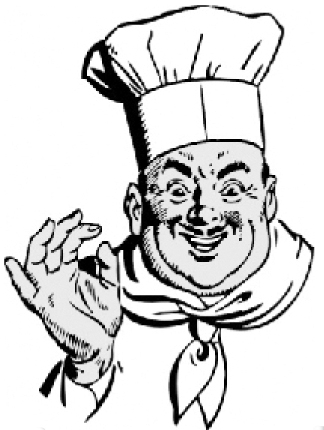 Tortang Talong with Crab Meat (Eggplant Omelet with Crab)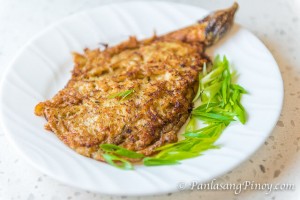 Tortang talong or eggplant omelet has always been my go to dish when I do not like to eat meat, but want something decent and quick to prepare. I enjoy eating it with rice and banana ketchup. Tortang Talong with Crabmeat is even better because it has the good taste and texture of eggplant omelet plus the crabmeat.
This dish is quite easy to prepare. The video will show you the exact steps that I did, while the recipe below will show you the exact measurements of the ingredients. If you are doing this for the first time, note that the eggplant needs to be broiled or roasted (not boiled) before peeling off the skin. The traditional way to do it is to put the eggplant directly over fire or charcoal.
I used fresh crab meat that I got from the nearby grocery. These came from crab claws according to the details in the package. You can also use frozen crab meat as long as it has been thawed. If you are in the Philippines or any location where crabs are abundant, it is perfect to use the meat of a freshly steamed crab.
Ingredients
3 medium chinese eggplants (broiled for 12 minutes)
4 eggs
1 cup fresh crabmeat
1 medium yellow onion, chopped
¼ teaspoon salt
¼ teaspoon garlic powder
a dash of ground black pepper
8 tablespoons cooking oil
Instructions
Heat a pan and pour-in 3 to 4 tablespoons of oil.
Saute the onion until soft.
Add the crabmeat. Stir fry for 2 to 3 minutes.
Add salt, ground black pepper, and garlic powder.Cook for 1 minute. Transfer to a bowl and then set aside.
Peel the eggplants. Make sure to completely remove the skin.
Lay a piece of eggplant flat in a plate and then flatten it using a fork.
Heat a clean pan and pour-in remaining oil.
Dip the flattened eggplant in beaten egg. Put in the pan with oil to fry. Scoop some of the cooked crabmeat and spread on top of the eggplant. Pour 2 to 3 tablespoons of beaten eggs over the meat.Push or scoop hot oil over the eggplant to partially cook the egg. This will hold the crabmeat and prevent it from falling.
After 3 minutes, turn over the eggplant using a spatula. Cook the other side for 3 to 5 minutes.
Transfer to a serving plate. Serve!
Share and enjoy!
Rellenong Alimasag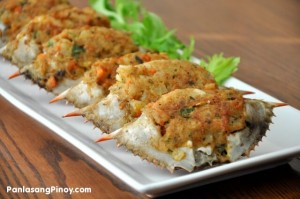 Rellenong Alimasag is the Filipino version of Stuffed Crabs. Crab meat is sauteed along with some vegetables, spices, and seasonings. The cooked mixture is later stuffed inside individual top shells of the crab, and fried in medium heat for a few minutes to complete the cooking process. Since the meat extracted from each piece of crab is limited, fillers such as carrots and potatoes are used. These vegetables also act as additional sources of vitamins and nutrients.
Rellenong Alimasag is best served with hot steamed white rice. As for the sauce, I really don't want to get fancy. I use our favorite brand of banana ketchup. In case you want something different, try using sweet and sour sauce. This recipe uses blue crabs because it is the most common variety in my location. You may use different types of crabs depending on your preference. It is also possible to omit the vegetable fillers if you have additional crab meat. Some groceries sell fresh or frozen crab meats — there are also canned crab meats in the section where canned tuna are located.
Ingredients
Meat and top shell of 8 pieces steamed blue crabs
1 medium potato diced
1 medium carrot diced
1/2 cup bread crumbs
1 medium onion, minced
1 piece long green chili (siling pansigang), chopped
1 medium tomato, diced
3 teaspoons dried parsley
2 teaspoons garlic powder
2 teaspoons salt
1 teaspoon ground black pepper
2 tablespoons cooking oil for sauteeing
2 pieces raw eggs
1 cup cooking oil for frying
Cooking Procedure
Heat pan and pour-in 2 tablespoons of coooking oil.
Saute onion and tomatoes.
Add potato and carrot. Cook for 3 to 5 minutes
Put-in the long green chili and crabmeat (you may include the juice of the crab for additional flavor). Cook for 2 minutes.
Add parsely, garlic powder, salt, and ground black pepper. Stir. Turn off the heat and place in a large bowl.
Once the temparature cools down, combine the cooked mixture with breadcrumbs and eggs. Mix well.
Stuff each crab shell with the mixture.
Heat a pan and pour-in 1 cup of oil.
When the oil becomes hot, fry the stuffed crab shells. The part with the stuffing should be facing up. Gently scoop the hot oil using a spoon and pour the oil on the stuffings. This will slowly cook the stuffing.
Flip the crab shell and fry the side with stuffing in medium heat for about 3 to 5 minutes.
Turn off the heat and transfer to a serving plate.
Serve. Share and enjoy!
source: panlasangpinoy.com