Bridging the Filipino Cultural Heritage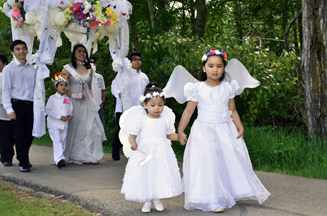 RED DEER REPORTS:
By Prodie Gar. Padios
PRESERVING the cultural and religious beliefs of the Filipino Community in Red Deer, particularly the Santacruzan, is really a fantastic move, and it is extremely worth to reckon with.
In cognizant with the Filipino Cultural Heritage, it is also one way of bridging the traditional and cultural lives of the Filipinos from the Philippines to the Filipino immigrants, and/or Filipino-Canadians to foreign nations, like Canada.
The "Philippine-Canadian Association of Red Deer and District (PCARDD)" headed by Janice Kong-Schmidt, and the "Fil-Can Seniors Society of Red Deer (PCSSRD)" by Zena Cauchi, hosted its first Santacruzan on May 28, 2016 at the historical Bower Ponds.
Fifty five young girls participated representing various "Reynas" (Queens) and Angels on their beautiful gowns under their beautifully decorated arches parade.
About 200 Red Deerians gathered together at Bower Ponds to witness one of the most colorful May-time traditions observed in the Philippines.
"It increases awareness and provides good understanding of the importance of these beliefs to the young ones who has Filipino parents but was born or grew up in Canada and Canadians alike," Kong-Schmidt said when this author asked her about the significance of Santacruzan to our Filipino Community here in Red Deer.
Santacruzan is a religious-historical beauty pageant held throughout the Philippines during the month of May, in celebration of "Flores De Mayo" (May Flower Festival).
A procession is held which re-enacts the finding of the Holy Cross by Queen Helena (Reyna Elena) and her son, Constantine.
The incumbent PCARDD President, a Registered Architect and Principal of "Turpin Kong Architects, Inc., Red Deer," revealed that the Santacruzan was an idea brought to PCARDD by the "Fil-Can Seniors Society of Red Deer."
"The initiative was a joint-effort hosted by the two groups," she said. "By celebrating the Santaruzan, it helps preserve the culture and religious beliefs of the Filipino community in Red Deer."
What is the primary objective why her incumbency revived this Filipino tradition and belief in the first world country, like Canada?
Janice, as her friends and relatives fondly called this eldest of four siblings who was born and raised in Naga City, Bicol, Philippines, said that "it takes us back to commemorating the significance of Christianity to Filipinos."
"It is a way of gathering Filipinos together as one, and at the same time, it is a fun activity for everyone to enjoy," she added.
Janice is the newly elected president of the PCARDD recently.
She immigrated to Canada (Red Deer) with her siblings in 2003 and has been in Red Deer since.
As a Registered Architect, she is a member of the Alberta Association of Architects and the Royal Architectural Institute of Alberta.
She is also a member of the Rotary Club of Red Deer.
Born as a leader, she is the Chair of "RAIC Center Alberta Chapter," and also as the Citizen Representative of "City of Red Deer Municipal Planning Commission."
Before elected as president of PCARDD, she was the Vice President of this "Filipino-Canadian organization in Red Deer District."
Janice is newly married to Vaughn Schmidt, a Canadian national (Red Deerian), and a Chartered Accountant with a local Accounting Firm here in Red Deer.
What are Janice' visions for PCARDD under her leadership?
Our organization's mission will be geared towards holding fundraising events where proceeds will be used in supporting a worthy cause and local community projects;
Fun activities and celebrations that will continue to promote our culture and focus on networking and connecting newcomers to various community resources;
Furthermore, our organization will be centered on volunteerism, wherein those who have been helped will be encouraged to pay it forward.
The newly elected Officers and Board of Directors of  PCARDD:
Janice Kong-Schmidt, President
Glenn Kubaron, Vice President
Jess Ramos, Treasurer
Tess Leslie, Secretary
Vaughn Schmidt, Auditor
Board of Directors:
Derille J-R Abaya
Emil Alipio
Herson Cara
Jane Compton
Jingle Corrales
Victor dela Cruz
Mildred Manuel
Victor Pascua
Nieva Rosales
Jeremy Tabbu