Kuya Bong's Kusina

Apple Glazed Pork Chop
Apple Glazed Pork Chop is a comforting pork chop recipe that you can prepare on regular days for either lunch or dinner. This recipe makes ordinary pork chop stand out and adds some excitement to your taste buds.  This apple glazed pork chop recipe is tailored for people who don't like their food to be too salty. You can always add salt if you think that this dish needs more.
I started out by pan frying the pork chop in cooking oil. You can use canola or vegetable oil for this recipe. Make sure that you do not over fry the pork chop so that it won't get tough. It will also help to have thicker slices of pork chops so that the center will remain juicy and tender.
Not all pork chops are tender. If this is the case, you will need to simmer the pork chop in apple juice (and you can even add some water) for a longer time until it becomes tender. If you think that the dish needs more thyme, rosemary, and oregano, try to add a pinch of each.
Ingredients
4 pork chops
1 cup apple juice
3 pieces apples, thinly sliced
1 medium onion, sliced
1/8 cup dark brown sugar
2 tablespoons butter
a pinch of dried thyme
a pinch of dried rosemary
a pinch of dried oregano
1/4 cup cooking oil
1 teaspoon salt
1/2 teaspoon ground black pepper
Cooking Procedure
Run salt and pepper on the pork chop. Let stand for 15 minutes.
Heat the cooking oil in a pan.
Pan Fry both sides of the pork chop until it turns brown. Remove excess oil.
Pour-in the apple juice. Let boil.
Add rosemary, oregano, thyme, and half of the brown sugar. Simmer for 15 minutes (add extra apple juice as necessary). Turn the heat off when the sauce reduces.
Heat a separate skillet and then put in the butter.
Add the onion, apples, and remaining sugar. Stir and then cook for about 5 minutes.
Arrange the pork chop in a serving plate and then top with the apples and onion.
Serve. Share and enjoy!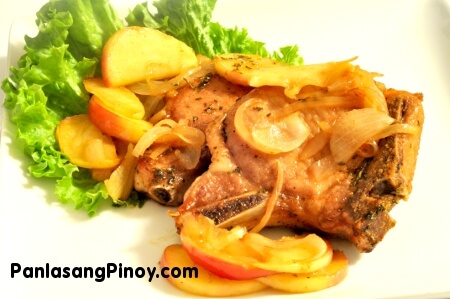 Country Fried Breaded Pork Chop
One way to dress-up pork chops and make them more appealing is to fry them country style. They might look simple; it is because they really are. Aside from being simple, here are some of the reasons why you should try country fried breaded pork chop:
Breaded Pork Chop taste good
It takes less than 30 minutes to prepare
The ingredients are not hard to find
Some uncommon ingredients have common substitutes
The texture is awesome. Its juicy in the inside while crispy in the outside (if done the correct way)
It is visually appealing to the kids.
Kids love fried food; they would definitely love this
This can be paired with any side dish (it will even do without any)
It goes well with your favorite banana ketchup
It taste good with KFC style gravy
It even tastes great with Asian Dipping Sauce
You can have it with your own Home Made Mashed Potatoes
Ingredients
2 lbs pork chops (about 4 to 5 pieces)
1½ tablespoons seasoned salt (or table salt)
¾ cup Panko breadcrumbs (or ordinary bread crumbs)
½ cup all-purpose flour
1 teaspoon salt
1 piece raw eggs
½ teaspoon ground black pepper
1 teaspoon beef broth powder
1½ cups cooking oil
Instructions
Clean the pork chops and pat dry using paper towels.
Rub seasoned salt around each chop and place inside the fridge. Allow to sit for at least 3 hours.
Beat the egg and whisk-in salt and pepper. Set Aside.
Combine the Panko bread crumbs, all-purpose flour, and beef broth powder in a small freezer bag or deep container and mix well to distribute the ingredients. Set Aside.
Heat frying pan and pour-in cooking oil.
Dip each chop in the egg mixture making sure that all the areas are covered then dredge in flour-bread crumbs mixture.
When the oil is hot enough, pan-fry the pork chops in medium heat. Cook each side until the color turns golden brown (about 5 to 7 minutes depending on the thickness of the cut).
Turn off the heat and transfer the cooked pork chops in a plate lined with paper towel.
Serve with steamed vegetables and rice or mashed potatoes.
Share and enjoy!