Ashley Baes, a proud member of Calgary Stampede Showband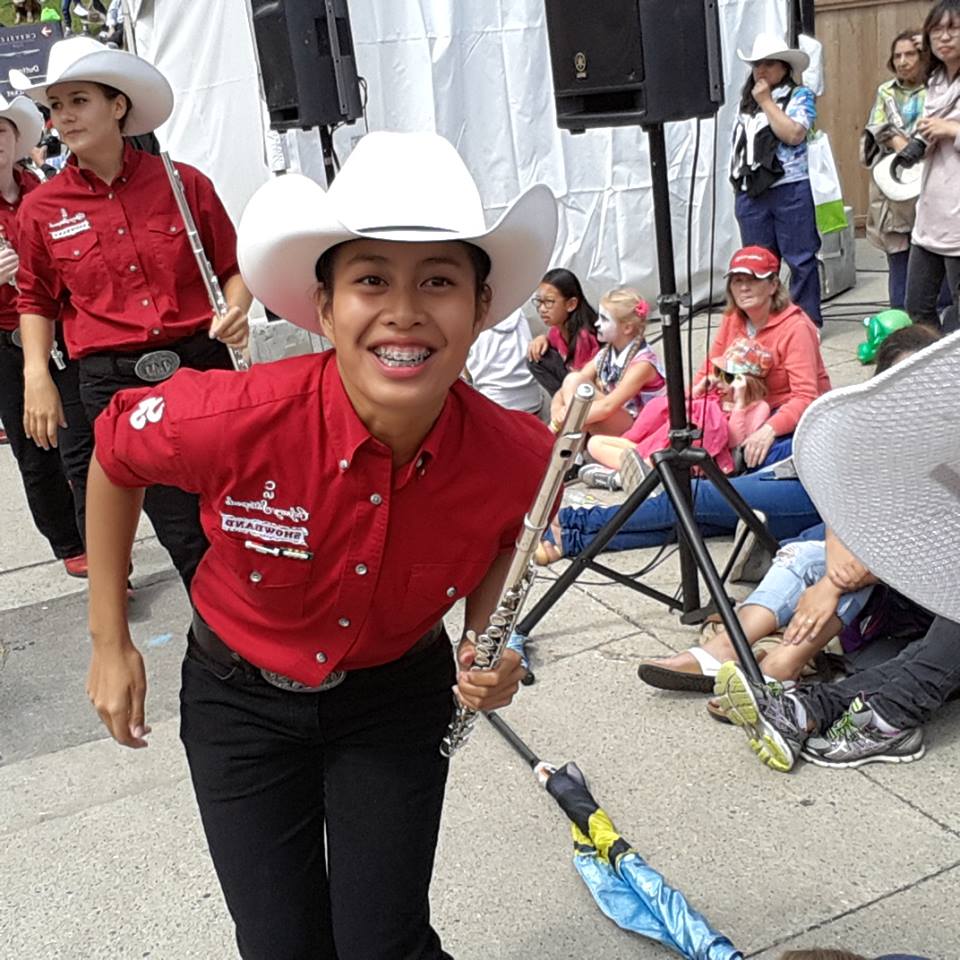 FEATURE ARTICLE by C.K.
Not everyone knows that to be a part of the CALGARY STAMPEDE SHOWBAND is such a big honor and privilege to an individual. But how easy is it to join such a group?  We might have the talent and skill but is that all we need to be a part of it?  Let's find out from Ashley Baes she managed to be a part of this showband and what she gained from all her hard work for the years she has been with the group.
Can you give us a background about yourself, i.e. parents, born in Canada? siblings, favorite hobbies, favorite subjects, etc.
I was born and raised in Calgary. I have two siblings, both younger than me; my sister Jelsey is currently in high school and my brother Jenard is going into grade 3. I am currently a student at the University of Calgary.
Was it ever you dream to join the CS Showband and if so why?
My marching band career started when I was in grade 8. I joined the Calgary Round-Up Band in September 2010. I was in that band for 2 years, I did 1 year with the Calgary Stetson Show Band and I have just finished my third year with the Calgary Stampede Showband.
I think it's a pretty common thing that when you're growing up within this band community that you're always looking for a challenge and that next step forward. That's what the Stampede Showband was to me. I had always admired the Stampede Showband as a member of both the Calgary Round-Up Band and Stetson Show Band. I loved watching the Calgary Stampede Showband's performances; from the high quality 10 minute field show to the really fun step show performance, performed on the Saddledome Steps every single day during Stampede Week. The more I watched the band, the more I wanted to be a part of it.
What musical instruments do you play and what do you play with the CS Showband?
I play the flute with the Calgary Stampede Showband. I also took piano lessons for 10 years previous to joining the Showband.
Whom did you get your musical influence from?
There is no one person that influenced me musically. I am surrounded by a group of amazing musicians and that inspires me.
How did you audition for the CS Showband?  When was this?  What was the process?
I auditioned for the Stampede Showband in May of 2013. There are 3 parts to the audition; marching, music and an interview. It was pretty nerve wracking, but I knew that I had done enough to prepare.
Describe your experience as a member of the CS Showband, i.e. competitions?  travels? scholarships? and how many years have you been with the showband?
I've had an amazing experience as a part of the Stampede Showband. I travelled to Brazil in my first year with the group (2014) for the World Association of Marching Show Bands Competition, which we won.
Last year we went up to Edmonton to perform at K-Days, Saskatoon  for Saskatoon Ex, and we went down to Indianapolis to watch DCI finals and perform at SoundSport.
This year we did our tour before Stampede week down to Wisconsin where we did another competition circuit. It was a lot of rehearsing, but we got to spend a day Chicago which was fantastic.
How did you manage your time between school and being a part of the CS Showband?
I was in the Stampede Showband for my last 2 years of high school and my first year of university. I'm really good at planning out what I want to do with my time, but not so much following through with the plan. I juggled my time around and found what was best for me. It's all about finding that balance between school and band. There were days when I had band all weekend and I had to do a test on the Monday, so an ideal situation would be for me to have done all my studying before my weekend of band. Realistically, I spent a lot of nights cramming, but that's what worked for me. I'm generally pretty good when it comes to school.
When is your last year with the showband?  will you continue to play your instrument even if you're not with the band anymore?
I still have a couple more years that I want to spend with the Showband. Yes. I love music. I love playing the flute. You probably won't see me performing out in public but I'll definitely still be playing my flute.
Future plans after your CS showband term is over.
I don't have any plans yet! That's still a couple years away. I'll still be in school but expect that I'll still be keeping involved with the bands here in Calgary.
What were the advantages and disadvantages of being with the CS SHOWBAND?
Being a part of this band is obviously such a huge time commitment, and such a huge commitment in general, but I wouldn't have it any other way. I love spending countless hours with some of my closest friends in sometimes the most inopportune conditions. That's what makes this experience all worth it I find. The more time and effort you put into this activity, the more you get out of it.
What advise can you give to other aspiring youth who wants to join the CS Showband.
Just do it. It's something different. It's not only a different musical experience, but a physical and an emotional one as well. It's a really special group to be a part of, and you don't know how special it is until you are a part of it. As a side note, if you've never been in a marching band before you DON'T need any marching experience. At auditions (which happens in May) be prepared to learn!
Overall, is there anyone who you would like to thank specifically for the mentorship you got from CS Showband?
I'd just like to thank anybody who has been a part of my band experience. To my friends, thanks for continuing to make my time with the bands such a fun experience; I'm thankful for the staff for always pushing me  and the group to do the best that I can in every aspect of this activity.