Advise for Chinese Ghost Month Dos and Don'ts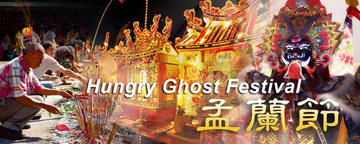 CHINESE GHOST MONTH TABOO
Today is the start of the chinese hungry ghost month which will begin on 3th August 2016 and end on the 31Aug 2016.
The Chinese ghost month or commonly known as the Hungry Ghost festival falls on the 7th Month of the chinese lunar calendar. At this time, the gate of hell is opened so the spirit and soul of the otherworld is free to roam on ours.
Some rules to follow and prevent as the negative energy for this particular month is stronger.
01)  Do not pee on a tree because it may offend the spirits.
02)  It was said that young people (children included) should not wander around too late into the night during the ghost festival for fear that spirits would follow the individual home.
03)  It is bad luck to kick or disturb offering to the hungry ghost such as joss stick, candle and food offerings. All these item are mean for appeasing the spirits and ghost.
04)  It is also inauspicious for couple to get married during the hungry ghost month.
05)  During the month, Chinese Operas would be staged to perform and entertain the spirits and soul during the hungry ghost festival. Usually the front row of seats are reserve for the spirits so it is not advisable to sit on it especially during the first day of the festival. It is said that one may get possess if the individuals luck is low.
06)  It would be best to avoid swimming during this month as victims death by drowning may cause the individual to drown. Some has experience their leg been drag/pull into the water.
07)  During this month it is not auspicious to visit a sick person in the hospital, attend an funeral, moving house and starting a new business.
08)  Avoid talking about ghost during this month as it may offend wandering spirits
09)  It is advisable not to have the main door of a premise open all night long. This apparently will invite negative energy into the house.
10)  Leaving an umbrella open outside the house in the night is also considered a no-no as spirits may take shelter under them.
11)  Opening an umbrella INSIDE the house after it was used in the night is also not advisable. It is said that one may bring/carry in spirits to the house.
12)  One should also avoid going into a jungle during this time. Tree with long leaves are consider very yin and it's not advisable to take shelter there.
13)  One must also not kill any rare insect (moth, grasshopper, butterfly, etc) that visits the house during this time. They apparently are manifestation of spirits or ancestors paying a visit.
14)  To begin/start renovation to your premise during this time is inauspicious. This is said to be disturbing any spirit/soul residing there.
15)  In fengshui terms, moving/placing a fish tank into a house this month is also considered inauspicious. Water is considered a Yin element.
16)  Celebrating birthdays in the middle of the night during the seventh Chinese ghost month is inauspicious.
17)  Taking out wet clothes for drying in the night. Apparently, Spirits would try them on and will bring misfortune to whoever that wears it after.
18)  Careful when driving or traveling as the likelihood of accidents are higher especially for those whose luck this month is lower.
19)  It is inauspicious to have the chopstick stab onto the rice while eating. Do this would signify that the food is an offering to the good brothers/spirits.
20)  The chinese believe that each person contain an unseen trinity fire which is located on the forehead and shoulders. These are to protect them from been possess and bad luck. It would be advisable not to pat anybody shoulder or forehead at this time.
21)  During this ghost month it is advisable not too look back or respond when somebody calls your name from your back.
22)  Do not place your sandals facing the headboard of your bed to avoid unwanted spirit sleeping along.
23)  One should avoid playing with spiritual games like the Ouija Board, Spirit Pen,
Advises
–        wear more protective amulets during this period.
–        displaying appropriate house amulets and images of powerful cosmic guardians near entrance areas at houses or shops.