PLCSA launched Linggo ng Wika Celebration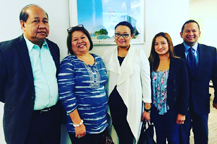 By Roberto Ugaddan
August 21, 2016 marked another significant event for the community hosted by the Philippine Languages and Cultural Society of Alberta which commemorated the Linggo ng Wika.
It was a day of fun and entertainment which was more into enrichment of the use of our national language and our culture.  Local performers sang original Filipino music and a group of seniors did a couple folk dances.
Aside from that, they also has the Tula writing contest and the Baybayin contest and a group guessing game using Tagalog words.
We would like to thank the officers of PLCSA namely Ms. Sherry Anne Fulgenio – president; Ms. Myles Lucina -secretary; Ms. Teofy Buluran – business manager; Mr. Roberto Ugaddan – treasurer; Ms.Jules Casuncad – auditor and to its founding members Ms. Connie Kriaski; Ms. Elvie Valeroso and Atty. Ferdie Aguirre.
We would also like to thanks all the performers, sponsors and the entire Filipino community for their support!  Until next year we look forward to a bigger and better free event for everyone!