Barcelona: A Love Untold By C.K.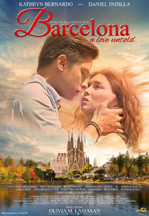 Barcelona: A Love Untold, is the latest comeback movie of Daniel Padilla and Kathryn Bernardo under director Olivia Lamasan for the first time.
In the movie, Ely (Daniel) is a student in Barcelona pursuing further studies in Architecture while engaged in three (3) jobs as a tour guide, waiter and photographer to support himself and provide for his family back home. He lives with his aunt (Aiko Melendez) and her son Tonying (Joshua Garcia ) while estranged with his wealthy biological mother (Isabel Lopez) who also lives in Barcelona.  He's just starting to move on from losing the love of his life, Celine. It also depicts in his character that living abroad is not a bed of roses.
Ely meets the troubled Mia who goes to Spain to escape some personal issues in the Philippines that had antagonized her relationship with her strict father (Ricky Davao). Unfortunately, she would be faced with more trouble in Barcelona. Coming from a privileged background, Mia is at a loss and can't cope as an OFW doing menial jobs and hard labor. About to surrender to her fate, Ely helps and guides her in a big way.  But at some point Ely sees Celine in Mia. That's why there are so many issues to untangle in the movie.The plot makes a turning point as it inches and weaves its way into the story.
There is an overload of drama, too much unnecessary tears that it creates some kind of a 'disconnect '.  There are so many issues going on in the characters' lives that at times confused the viewers, showing one dramatic scene after another without really justifying how they came about. It seems that they are interwoven with each other, sorely lacking in nuances – like a piece of this and that, here and there, without real substantial justification.
The film 'though is truthful in its portrayal of Ely and Mia as OFW's or overseas Filipino workers. Their hard toil in a foreign land, living with and embracing an unfamiliar culture, while coping with personal issues, legal constraints, financial problems and the challenge of dealing with (sometimes insensitive) family back home. I'm sure that a lot of our contract workers can truthfully and honestly relate to that part of the movie.
Ely and Mia's romance gives the film the much-needed breather… and excitement for the fans, too. Barcelona is a perfect place for the couple amid the changing lights and colors at Magic Fountain of Montjuc and their walks along the streets surrounding the world famous temple, Sagrada Familia.  Barcelona is such a beautiful setting for the movie, it is comparable to a movie that was shot in Milan.  And to think that there are a lot of Filipinos in Barcelona, I'm sure that Daniel and Kathryn wasn't able to hide from their fans during shooting days.
But despite some flaws, director Lamasan succeeds in bringing out the improved actor in Daniel Padilla. Compared to Kathryn, Daniel delivered more in this film. His eyes and movements say it, revealing maturity and experience. Kathryn's acting on the other hand struggles but lacks depth, it has yet to reach that "leading lady" level. But who knows, it might not be for long. Perhaps, a stronger commitment to her craft will nail the difference. Ditto if Kathryn knows how to make use of her naturally beautiful face – then that will be a big plus.  In due time, more mature roles will be given to this tandem and their love team has garnered so much following.  There has been 2 extensions for the movie Barcelona here in Calgary.  It is now showing until October 13, 2016.
The movie's highlight which is the first ever kissing scene of Daniel and Kathryn in the last part of the movie is saved for the "kilig" of the fans to smile and savor for all its worth.