Kuya Bong's Kusina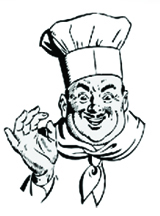 Grilled Liver Bistek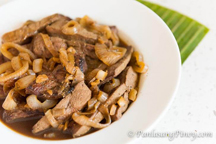 Liver might not be the most appetizing ingredient, but there are ways to make this pleasurable. Grilled Liver Bistek is a dish composed of grilled pork liver cooked bistek tagalog style. It is tasty and great with rice.
This is a liver steak with sauce recipe called Grilled Liver Bistek.
Ingredients
1 lb. Pig's liver
1 medium yellow onion, sliced into rings
3 cloves garlic, crushed and minced
½ lemon
3 tablespoons soy sauce
¼ teaspoon salt
⅛ teaspoon ground black pepper
½ teaspoon sugar
1 cup water
3 tablespoons cooking oil
Instructions
Grill the liver for 4 minutes per side. Remove from the grill and then slice into strips.
Heat oil in a pan.
Sauté the garlic and onion
Once the onion gets soft, add the grilled liver slices. Stir and cook for 2 minutes.
Add salt, pepper, soy sauce, and water. Stir and let boil.
Add sugar. Set heat to medium and continue to cook until the sauce reduces to half.
Transfer to a serving bowl. Serve with warm rice.
Share and Enjoy!
Pork Menudo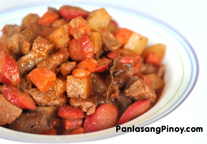 In almost every Philippine town fiestas or gatherings, Pork Menudo can be seen in the dining table. This is one of the favorite "putahe" (dish) served and this was the reason why different variations of this dish existed. Many Pork Menudo recipes include hotdogs (pinoy red hotdogs), green peas, or garbanzos and others would add sun dried raisins too. I think that it is a regional thing because almost different provinces have their own version.
This is a recipe for basic pork menudo. It is a delicious dish that makes use pork, liver, and vegetables such as carrot and potato.
Ingredients
2 lbs. pork
¼ lb. pig liver
1 cup potatoes, diced
1 medium carrot, cubed
½ cup soy sauce
½ piece lemon
1 small onion, chopped
3 cloves garlic, minced
1 teaspoon sugar
¾ cup tomato sauce
1 cup water
4 pieces hotdogs, sliced diagonally
2 tablespoons cooking oil
2 to 3 pieces dried bay leaves
Salt and pepper to taste
Instructions
Combine pork, soysauce, and lemon in a bowl. Marinate for at least 1 hour.
Heat oil in a pan
Saute garlic and onion.
Add the marinated pork. Cook for 5 to 7 minutes.
Pour in tomato sauce and water and then add the bay leaves.Let boil and simmer for 30 minutes to an hour depending on the toughness of the pork. Note: Add water as necessary.
Add-in the liver and hot dogs.Cook for 5 minutes.
Put-in potatoes, carrots, sugar,salt, and pepper. Stir and cook for 8 to 12 minutes.
Serve. Share and enjoy!
Chicken Afritada Recipe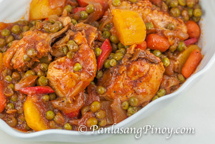 Here we are with another delicious tomato-based chicken dish that will surely capture your attention: Chicken Afritada. This might be an everyday dish served in Filipino households; however, having the complete ingredients and putting some love in your cooking will definitely turn this ordinary dish into something extra-ordinary.
Ingredients
2 lbs chicken, cut into serving pieces
1 large potato, quartered
1 large carrot, sliced
1 large bell pepper, sliced
1 cup green peas
8 ounces tomato sauce
4 cloves garlic, minced
4 pieces hotdogs, sliced
1 medium onion, diced
1¼ cups chicken broth or stock
2 pieces dried bay leaves
1 teaspoon granulated white sugar
4 tablespoons cooking oil
Salt and ground black pepper to taste
Instructions
Pour-in cooking oil in a cooking pot or casserole then apply heat.
Pan-fry the chicken until the color turns light brown (about 3 minutes per side).
Remove the chicken from the cooking pot.
On the same cooking pot, sauté garlic and onions.
Put-in the sliced hotdogs and pan-fried chicken then cook for a minute.
Pour-in tomato sauce and chicken stock then add bay leaves. Simmer for 30 to 40 minutes.
Add the potato and carrots then simmer for 7 minutes or until the vegetables are soft.
Put-in the bell pepper, green peas, salt, sugar, and ground black pepper then cook for 3 minutes more.
Turn-off heat then transfer to a serving plate.
Serve with steamed rice. Share and enjoy!