'Heart over hate' says Kapuso Network in fight vs cyber bullying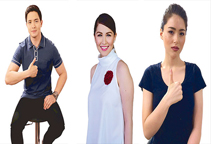 In 2011, GMA became the first local network to advocate the responsible use of social media through the Think Before You Click campaign. With this, GMA led by its award-winning News and Public Affairs team enjoined netizens to be more mindful of what they post or share online.
The campaign, due to its significance in an age where millions of Filipinos are on social networking sites, has gained several recognitions from award-giving bodies and academic institutions. To this day, Think Before You Click continues to be relevant considering the Filipinos' growing fixation with social media.
Just this year, the network through its Program Support Department (PSD) launched another timely social media campaign but with particular emphasis on ending cyber bullying and promoting positivity in the online world. Aptly titled #HeartOverHate, GMA brings together some of its biggest Kapuso stars to take a stand against cyber bullying, them being frequent victims of this themselves.
"The entertainment industry is often under the public's scrutiny," said GMA PSD Social Media head Raphael Florescio. "There is always criticism and judgment passed on by netizens that sometimes translate to hate. It is therefore the role of our celebrities and programs to help promote constructiveness and decrease tolerance to bashing," he added.
Through a website, videos and on-ground events, #HeartOverHate aims to transform the current social media landscape penetrated by haters and bashers into one that is founded on positive and encouraging values.
It was officially launched to the public last Aug. 11 at the Bloggers' Style Camp, which shared the same cause this year as the Kapuso Network's campaign. Eight Kapuso artists Bea Binene, Louise delos Reyes, Ashley Ortega, Mikee Quintos, Ken Chan, Derrick Monasterio, Martin del Rosario and Phytos Ramirez partnered with top entertainment and lifestyle bloggers in coming up with powerful images based on the theme, Heart Over Hate.
Shortly after, an advocacy video was released which featured (in order of appearance) Marian Rivera, Bea, Ken, Miguel Tanfelix, Bianca Umali, Kris Bernal, Kylie Padilla, Ruru Madrid, Louise, Phytos, Mikee, Andre Paras, Derrick, Martin, Ashley, Andrea Torres, Julie Anne San Jose, Glaiza de Castro and Alden Richards.
These Kapuso stars related their own experiences with cyber bullies with some even turning emotional as they recall some of the most hurtful words thrown at them.
The promotional posts of the #HeartOverHate campaign have already reached an estimated 12.8 million people on GMA's Facebook page from Aug. 15 to Oct. 25. Shortly after its release, the advocacy video reached more than two million netizens and hit over 590,000 views.
Ken was also invited to speak before the participants of the 12th Philippine Blogging Summit regarding the campaign and how he, as an actor, handles cyber bullying. Other Kapuso celebrities have also shown support to the campaign through their own social media efforts.
"It's very important to educate netizens about the proper etiquette on social media," explained Florescio. "One way of doing this is to empower them to become more aware of laws that can protect them from cyber bullying. There are multiple ways to stir constructive conversations online and to make the social space more conducive to proper discussions."
In the hopes of spreading the campaign's message among as many individuals as possible, a website (www.gmanetwork.com/HeartOverHate) where in netizens can read articles on cyber bullying and follow updates about the campaign, was developed. There are also efforts to build partnerships with like-minded groups and organizations.
In recognition of all these, #HeartOverHate was instantly recognized at the first-ever BlogEx Manila Awards where it won two major awards — Social Movement of the Year and Most Innovative Digital Marketer (Corporate Category). The network is now even more determined to intensify the fight for a more sensitive and friendlier online world.
"We want to encourage people to be more sensitive and to allow others to express themselves without fear of being bashed on the Internet," stressed Florescio.
With social media users perpetually growing by the hour, advocacy campaigns like #HeartOverHate and Think Before You Click are weapons against online crimes and those who abuse their voices online — regardless of whether you are a celebrity or not.