Alma gives hope to surrendering drug users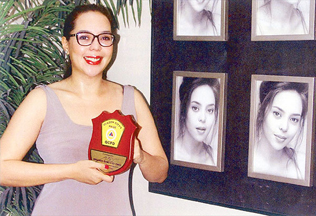 Alma Concepcion proudly shows the Plaque of Appreciation given to her by the Quezon City Police District (QCPD) in recognition of her valuable participation as speaker during the surrender of drug users in Quezon City — Photo reprinted from the Philippine National Police Journal
Been there, done that.
Eighteen years after her "Guam experience" (everybody knows what happened, right?), Alma Concepcion continues to impart lessons from her sad past and at the same time give hope to surrendering drug users from showbiz and beyond.
It happened in 1998, four years after Alma, then 23, won Bb. Pilipinas-International.
In The Road to Recovery, an article he wrote in the latest issue of The PNP Journal (with PNP Chief Ronald "Bato" Dela Rosa on the cover), Nup Loreto "Eton" Concepcion recalls how Alma was arrested at the Agana International Airport in Guam after "ice" (or shabu) was found in her handbag.
"She told authorities that the shabu was given to her by her non-showbiz friends in Manila who were trying drugs out of curiosity, and that she forgot the illegal substance was hidden in her bag," wrote Eton.
Fortunately, Alma was saved from a possible 20-year imprisonment after she tested negative for shabu (but she allegedly took small quantities of Ecstacy, the so-called "party drug"). In his story, Eton noted that the paraphernalia and shabu found inside her bag were below the minimum level to classify Alma as a drug pusher, and she pleaded guilty to "misprision of felony" and made to do an anti-drug commercial while her US visa was put on hold.
"She was acquitted of any drug charge and was allowed to return home after 24 days of grueling court proceedings," continued Eton. "Less than a year later, her US visa was reactivated."
Back home, Alma was quoted saying, "Those 24 days in Guam were the loneliest I ever spent in my entire life. Those days made me realize the dangers of drugs. The experience made me swear never to get involved in anything like that again."
That's exactly the same message that Alma is conveying as a resource speaker in radio and TV programs ­— stay away from drugs and never try them even out of curiosity. She has become "a voice of experience" helping lead drug users out of the darkness that she had plunged into because of illegal drugs. Recently, Alma received a Plaque of Appreciation from Chief Supt. Edgardo Gonzales Tinio of the Quezon City Police District (QCPD) "for her valuable participation as speaker during the surrender of drug users/pushers in Quezon City."
Also a Model Mom of the Philippines 2016 awardee, Alma reminded parents to make sure that the parties their children are attending are safe and drug-free. That was in the wake of last May's tragic incident during the Close Up Forever Summer Concert at the MOA open parking lot where five people were reported to have died from drinks reportedly laced with drugs. Alma accompanied her 16-year-old son to the event. She was an eye witness.
"We should use the part to make us better persons," Alma told the media at that time. "I hope that the new generation would learn from our mistakes."
More excerpts from Eton's article from which not only the young but also parents can learn a lot from:
• Alma: …People who got addicted to drugs or to alcohol can bounce back. I think that the level of addiction is different, I experimented with Ecstacy but I was not addicted to it. Ecstacy was not addictive. I did not go out of my way to buy the drug. It was easy for me to quit. No nightlife for me after the Guam experience because Ecstacy is taken among groups…
• Recalling that returning home was more painful than being behind bars in Guam, Alma said, "They made me feel like I had leprosy. While I got released and was not deported, when I came back I was fired by my mother studio; no work was coming my way. My father also lost his job when he flew to Guam to attend to my case. Losing everything could be your greatest fear in life."
Life for Alma is back to normal. Instead of hiding in shame, she is using her "dark past" as eye-opener to people wallowing in a similar situation.
"I have actually been into this after I came back from Guam," Alma told Eton. "I've been active in the Anti-Droga movement."
As parting shot, Eton asked Alma how she felt about Pres. DU30's relentless war against drugs.
"I see that the fight against drugs today was not as highlighted as it was 10 years ago," said Alma (who has recovered from epilepsy). "I am sad about the extra-judicial killings, but I am happy for the drug users who have surrendered. I am for the total eradication of the drug problem in the country. Everyone should stay away from drugs."