BCBP Calgary Opens with First Inaugural Breakfast Meeting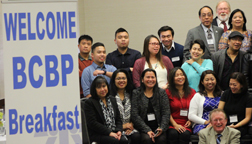 October 16, 2016 proved to be a landmark day for the Brotherhood of Christian Businessmen and Professionals (BCBP) as Calgary had its first inaugural BCBP Breakfast on that day.
Held at the Sheraton Four Points Hotel from 8:00 to 11:00 in the morning, this momentous event was participated by 51 invited guests, with a total of 82 people coming together to be introduced to the BCBP and to celebrate fellowship with each other.
The meeting started with an opening prayer and welcoming song, followed by a video clip on the history of the BCBP.  The central part of the program was the touching and inspiring sharing of Glenn and Aileen Labus, who spoke about how their Christian faith and love for Christ helped them through their life journey — the trials and ordeals they had to face, and ultimately their success in overcoming these difficulties.  Glenn and Aileen have been with the brotherhood since 2001 from Cebu City.
Founded in 1979, the Brotherhood of Christian Businessmen and Professionals is an Christian organization whose objective is to evangelize men and women in business leadership roles with the mission of "bringing Christ to the marketplace and into professions," thus creating about a transformation of people in the business world in keeping with the values of the Gospel.  The movement has grown by leaps and bounds and has chapters all over the world, continuing to touch the lives of businessmen and women and professionals, and inspiring each to uphold and espouse Christian values, personally and at work.
According to Glenn "Our highest priority is to love God, and this means that the quality and strength of all our relationships and undertakings should be founded on a deep personal connection with the Lord".  Furthermore, Glenn states that leading an orderly life that is constantly examined and balance (family, work, finances, health, and relationship) is essential to overall wellbeing.
The affair ended with brief messages from Jun Obra and Frank Nuquid, BCBP officers from the Philippines and Toronto respectively, who spoke more about the mission of the BCBP in Calgary and then formally invited all the participants to join the Brotherhood Christian Life Program (BCLP) that will be held in Calgary on December 5 & 6, 2016 .
The next breakfast meeting is scheduled on November 27, 2016 at the Sandman Hotel/Moxies located at 25 Hopewell Way NE,Calgary.